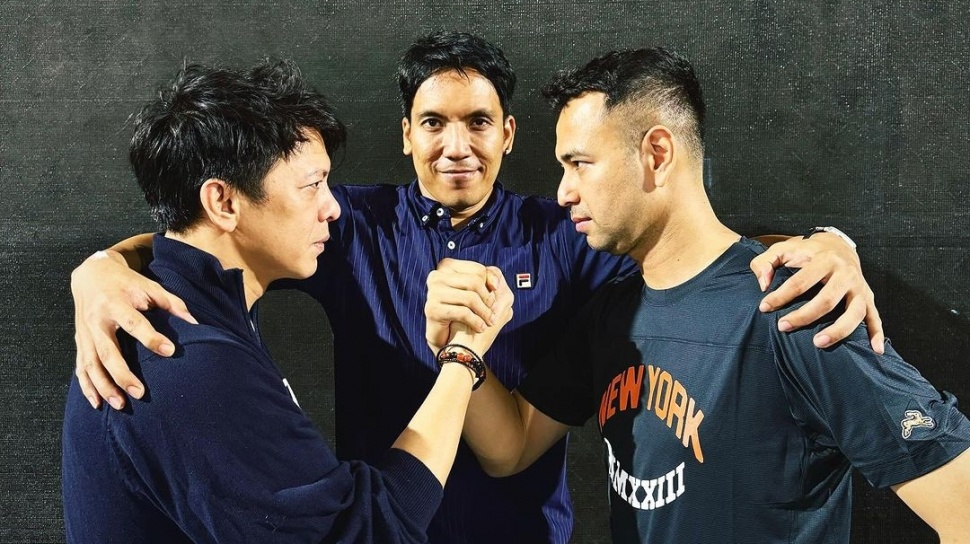 Suara.com – Raffi Ahmad's challenge to Ariel NOAH to compete in boxing was apparently accepted by the singer. Raffi and Ariel will definitely enter the ring in December 2023.
As is known, boxing promoter Raja Sapta Oktohari successfully held a boxing match between artists entitled Superstar Knock Out on November 17 2023. One of the matches that stole attention was the El Rumi vs Jefri Nichol match which El won by a narrow score.
After the event, Raja Sapta admitted that he was very satisfied that the event was successful and received the attention of many people. Raja Sapta, who is known to have been a promoter for a long time, then said that he would like to hold Superstar Knock Out again if Raffi Ahmad entered the ring.
Receiving this challenge, Raffi Ahmad's soul boiled. Nagita Slavina's husband also admitted that he was brave enough to accept Raja Sapta Oktohari's challenge.
Raja Sapta smiled at Rafathar's father's answer. He also asked who Raffi Ahmad wanted to fight.
Raffi Ahmad also revealed that he was reluctant to have an opponent who was younger than himself. The father of two children wanted an opponent who was the same age as him. The name Ariel NOAH also emerged from Raffi Ahmad's mouth.
"I challenge Ariel NOAH!" said Raffi Ahmad, bragging.
Raffi Ahmad's challenge apparently reached Ariel NOAH's ears. The former lover of Luna Maya and Sophia Latjuba then accepted Raffi's challenge.
This can be seen in the photo uploaded by Raffi Ahmad to his Instagram account, Sunday (19/11/2023) evening. In the photo, Raffi and Ariel NOAH look like they are preparing to duel. Meanwhile, Desta is behind these two famous figures.
In the photo caption, Raffi Ahmad said that the boxing match between himself and Ariel NOAH would take place soon. They will step into the ring in December this year.
"Challenge accepted! So! December 2023! Soon!" wrote Raffi Ahmad.
Raffi Ahmad's upload also received many responses from netizens and fellow artists, including Ariel NOAH. Without comment, Ariel only gave an emoticon which meant a sign of approval.
"I'm the moto," said Gading Marten. "Gas, make it A," commented El Rumi while giving encouragement. "Crazy crazy crazy," said Anji Manji as if he couldn't wait for the match.