Throughout his experience listening to sermons at a number of religious events, Rifqi Dewanto admits that he rarely hears religious leaders linking religion with environmental issues in the sermons they deliver. Even if there are, the number can be counted on the fingers.
From a number of these sermons, many of them did not make the connection between religion and the environment the main theme. The topic is present as a mere complement.
"Sermons like that (with environmental themes) are usually related to (theme) what humans should do on this earth," the 23-year-old researcher told VOA on Friday (4/8).
The man from Bekasi, West Java, admits that he sometimes encounters themes related to the environment in religious studies where young people dominate the participants.
A survey by a Washington-based research institute, The Pew Research Center, in 2020 stated that religion has an important role in the lives of Indonesian people, making it one of the countries with the most religious people in the world.
In the survey entitled "The Global God Divide", 98 percent of respondents from Indonesia consider the presence of religion to be very important in their lives. As many as 96 and 98 percent of respondents said that God and worship were an important part of their lives, respectively.
In the midst of the prominent role of religion and the "religious" label attached to Indonesia, religion has unfortunately not been able to become an effective medium in increasing public awareness of environmental issues amidst the challenges of the climate crisis that is crashing.
Worship and the Environment
Fachruddin Mangunjaya. (Photo: Twitter/FachruddinM)
Fachruddin Mangunjaya, a researcher in Islamic studies who has worked in the field of religion and the environment since the early 2000s, said that there are many contents in religious teachings related to the environment that have not been explored and socialized to the people.
In the Islamic context, according to Fachruddin, who is also a lecturer at the National University in the field of conservation biology, Muslims in Indonesia are still lagging behind in translating Islamic fiqh or law "into progressive social fiqh that is in line with the challenges of the times."
"As if the worship was only in mosques, prayer rooms, pilgrimage, zakat, and others. Religious life is social life and social life is related to the environment," he told VOA earlier this month.
"So all religious teachings that say rahmatan lil alamin (grace to the whole universe) where even in the mosque are not discussed about the environment," he added.
The gap that emerged in the relationship between religion and the environment in Indonesian society was then exploited by MOSAIC, a joint forum consisting of Muslim leaders, organizations and movements across entities, to be able to respond to the challenges of climate change through a religious approach.
The formation of MOSAIC, which is an acronym for Muslims for Shared Actions on Climate Impact, was also based on the high level of public trust in religious leaders as reflected in the initial opinion poll they conducted at the beginning of its formation.
"One of the things that's interesting is that when we ask about trusted messengers or messengers (which) are effective on the issue of climate change, religious leaders occupy number two, even above President Jokowi," Aldy Permana, a member of MOSAIC, told VOA.
A number of Muslim group leaders, including vice president Ma'ruf Amin (center), gathered at the Congress of Muslims for a Sustainable Indonesia which was held in Jakarta on 29 July 2022. The congress was held to consolidate efforts by Muslims to address the climate crisis. (Photo: Courtesy of MOSAIC)
Religion as a Medium
Starting from 2021, the forerunner to MOSAIC was officially launched through the Islamic Ummah Congress for a Sustainable Indonesia which was held in Jakarta on 28 and 29 July 2022. The name MOSAIC itself was agreed on in April this year with the social media channel Umat Untuk Semesta present as the main campaign account. of this movement.
The movement, which includes large Islamic organizations such as the Nahdlatul Ulama Institute for Disaster Management and Climate Change (LPBI NU) and the PP Muhammadiyah Environmental Council, comes with various programs that target environmental issues and seek to provide solutions to the challenges of climate change that are currently emerging.
MOSAIC is currently running a number of programs such as the Climate Hijrah Workshop, which is a training for young people to be able to create a movement in the environmental sector by integrating Islamic values, as well as Energy Alms, providing solar panels as well as training mosque administrators to take care of solar panels. . MOSAIC also plans to launch a forest waqf program as part of its activities.
The Sedekah Energi program which took place from February to July this year, for example, has succeeded in installing solar panels at the Al Ummah Al Islamiyah Mosque, Sembalun, West Nusa Tenggara, and the Al-Muharram Mosque in Yogyakarta. In the Yogyakarta program, the public can participate in crowdfunding where the funds are used to implement the program.
"To be honest so far we, or across Muslims, or through Islamic religious institutions, have already had initiatives and actions to deal with climate change. Of course so far we have been on our own, because it was our own initiative using our own resources, and I think this has tremendous potential if it can be collaborated, joint actions can be made to be more effective and have a wider impact," said M. Ali Yusuf, LPBI NU management who is also the MOSAIC steering committee.
Seeing that it is only as old as corn, MOSAIC faces a number of challenges in carrying out its work. The differences in backgrounds and expertise from a number of organizations that are members of the movement make the management try to match the interests and capacities of each organization involved to make the program work and be relevant, said Rika Novayanti, coordinator of the MOSAIC steering committee.
"Because one of our biggest targets is that we want to talk about climate issues with people who we call non-traditional. This non-traditional audience means audiences that so far haven't focused on climate issues, maybe because they don't have access, maybe because they don't have interest yet," said Rika.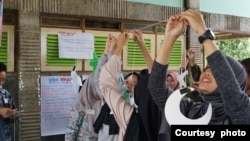 A number of participants participated in activities in the Climate Hijrah Workshop program which was held at the Miskyat Al-Anwar Ecology Islamic Boarding School, Bogor, West Java, on October 17-21 2022. (Photo: Courtesy of MOSAIC)
The Econusa Foundation, a non-profit organization that focuses on campaigning for fair natural resource management in eastern Indonesia, is also implementing a religious approach in raising awareness of environmental issues.
April Sirait, secretary of the foundation and head of the Econusa Foundation's CEO office, said his organization is now part of the International Rainforest Interfaith, an international movement that uses a religious approach in conveying information to raise awareness about the climate crisis.
As many as 13 Econusa partners in Papua and Maluku, said April, consist of 13 classes, an assembly level within the Protestant Christian Church. The presence of the priests was very helpful in reaching out to more people involved in the community resilience program run by Econusa, he explained.
"Our agenda for the climate crisis is related to community resilience, especially how they use the land and we as off takers provide assistance and provide added value to local products," said April.
"The bridge is that it was a religious approach. How can these pastors then educate the public that, 'this can be your source of income if you take it carefully.'"
One of the programs implemented is KOBUMI, where EcoNusa works with 10 cooperatives belonging to indigenous and local communities in the regions of Papua, West Papua, Southwest Papua, Maluku and North Maluku in selling and buying products typical of eastern Indonesia. The program was formed with the aim of increasing the competitiveness of local commodities as well as the welfare of indigenous peoples in the region.
Just a Theological Understanding
Seeing the current condition where religion has not been used properly in spreading messages about the environment, both Fachruddin and Ali said that the perspective and understanding of the current Indonesian people regarding the function of religion must be improved.
According to Ali, Muslims must be able to move more actively in overcoming the climate crisis or environmental issues because this is an obligation as religious people. He said the high status of religiosity held by the Indonesian people must be reflected in better living conditions.
"In Indonesia, the religious discourse is more on matters that are theological primordial, and then even towards politics at this time. That then also becomes our challenge how to balance the current people's penchant for attention when talking about religion and politics, the spirit begs for mercy. But when it comes to religion and the environment, maybe it could only be new to certain parties or certain segments of the group," he added.
Fachruddin gave an example that religion provides a future vision of human life, in which there is a recommendation to protect nature because it is part of a platform to worship the Almighty.
"That must be connected in the sermon, in the awareness of religious people regarding that God's creation is not just a teaching, but he (also) is implemented in God's creation," said Fachruddin. (rs/ft/dw)