Maybe you are experiencing sore feet when walking after waking up. Sore feet can be caused by various things, from shoes that don't fit properly to activities such as long-distance running or walking. How to treat sore feet when walking?
The pain that may arise could come from the bones, nerves, cartilage, tendons or ligaments of your feet. Some people tend to experience sore feet when walking after waking up due to structural foot problems, such as very high arches or flat feet.
Depending on the condition, you may feel sharp or persistent pain. There are various causes of sore feet when walking.
ADVERTISEMENT
SCROLL TO CONTINUE WITH CONTENT

Let's find out the causes and how to treat sore feet when walking.
Causes of foot pain when walking
Quoting from Verywell Health, Mother's feet have a complex and highly articulated structure consisting of 26 bones, 30 joints and almost 100 muscles and ligaments. Injury to any of these structures due to infection or disease can cause instability and pain in the foot.
1. Plantar fasciitis
One of the most common causes of foot pain is plantar fasciitis. This is inflammation of the tissue called the plantar fascia that stretches from the heel bone to the base of the toes.
Plantar fasciitis causes sharp, shooting pain in the heel or arch of the foot. Symptoms tend to be worst in the morning when you first get out of bed.
2. Metatarsalgia
Metatarsalgia describes pain in the ball of the foot where the five metatarsal bones are located. This long bone in the front leg connects your ankle to your five toes.
Metatarsals help form the arch of the foot which is important for walking and weight-bearing activities. Metatarsalgia pain is often described as sharp, aching, or burning.
This condition can worsen when you stand, run, walk, or flex your legs. Metatarsalgia often occurs in people who do high-impact activities, such as running or jumping.
Older adults are more likely to experience metatarsalgia due to long-term repetitive stress.
3. Neuropati Perifer
Peripheral neuropathy is pain caused by damage to nerves located outside the brain and spinal cord (called peripheral nerves). This condition can cause pain and other abnormal sensations in the hands and feet.
Neuropathic pain is often described as tingling, burning, shaking, or stabbing. The pain often gets worse when walking or standing.
Peripheral nerve damage can be caused by many things, including diabetes, alcohol abuse, Lyme disease, autoimmunity such as lupus, and certain medications.
4. Neuroma
A neuroma is a clump of abnormal nerve cells that forms between the toes (usually after an injury). Symptoms include burning pain in the ankles.
There may also be numbness and tingling that radiates to your toes. Neuromas can feel like pebbles in shoes.
This most often occurs between the second and third toes or the third and fourth toes. Women are more likely to be affected.
5. Sesamoiditis
Sesamoiditis is inflammation of the two small bones located under the big toe called the sesamoids. These bones help support the tendons that flex the toes.
Symptoms of sesamoiditis include dull pain and swelling at the base of the big toe. Stress fractures can occur if excessive weight-bearing pressure is applied to these bones.
How to treat sore feet and legs when walking
1. Soak feet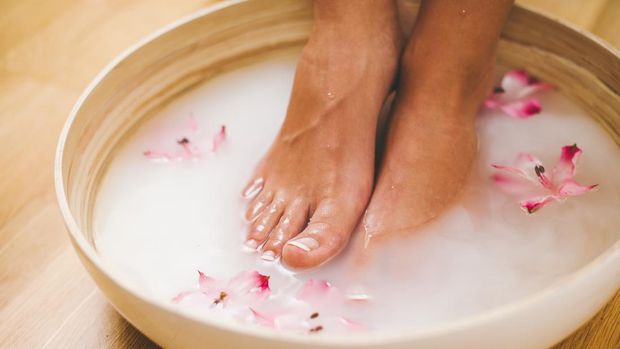 illustration of soaking feet/ Photo: Getty Images/knape
Soaking your feet in warm water might be a solution to relieve foot pain. Adding Epsom salt to a foot bath can relieve muscle pain and even reduce swelling in your feet.
You may be tempted to try other products for soaking your feet, such as baking soda. However, they tend to target skin-related conditions rather than pain or swelling.
Mothers can do a foot soak by adding one cup of Epsom salt to a tub of warm water. Soak your feet in the mixture for about 20 minutes to relieve pain.
2. Do some stretches
Mothers can also try some stretching exercises to help sore feet. Mothers can target one area of ​​the foot, such as the toes or heels. You can also do some stretches to target the entire leg.
3. Do strengthening exercises
Keeping your feet flexible and strong is the key to avoiding pain in your soles. Walking regularly for exercise is actually the best way to keep your feet flexible and healthy.
Avoid a lifestyle that is too sedentary. You can also try resistance training to strengthen your legs and prevent pain in the future.
Mothers can use resistance bands or weights to build strength in the legs. Even your own body weight can help you with resistance training.
4. Massage the feet
Mothers can massage their own feet to help relieve pain and improve circulation. Sit in a comfortable chair and massage and knead the bottom of your feet.
Pull and bend your toes to massage them. Use lotion or oil that can help lubricate the skin, making it easier to massage the feet. Products such as foot rollers (which are textured cylinders) can also help massage the feet.
5. Buy curved supports
Arch supports or orthotics can keep your feet stable when standing and walking, thereby eliminating pain. Mothers can buy it at the store or have it specially made by a doctor.
Both have been proven to be effective in relieving back foot pain and improving overall foot function.
6. Use an ice compress
Compressing the feet with ice can reduce the inflammation that causes pain. Ice the sore foot by filling a plastic bag with ice or rolling the foot over a frozen water bottle.
Try icing the affected area for 5 to 15 minutes several times a day to help reduce inflammation.
7. Use the RICE method
RICE is an abbreviation for rest, ice, compression, and elevation. The American Podiatric Medical Association advises people who have sprained or broken their legs to follow this method.
A sprain is a soft tissue injury that occurs when the ligaments that connect bones to each other are pulled, stretched, or torn. Trips, falls, and sports accidents are the most common causes of sprains.
How to do the RICE method?
Rest: Mothers should stay away from the injured leg. Walking, running, or playing sports can make the injury worse. Ice: Mothers should apply ice to the injured leg as soon as possible. In the first 48 hours, you should repeat this step throughout the day for 15 to 20 minutes at a time. Compression: Mothers should wrap the injured foot or ankle with a bandage. The bandage should fit well but people need to be careful not to disrupt blood circulation. Elevation: Mother should lie down and elevate the injured leg so that it is above the heart. This will reduce swelling. Let's try how to treat sore feet and legs when walking at home. If it gets worse, immediately contact your doctor.
For mothers who want to share about parenting and get lots of giveaways, come join the HaiBunda Squad community. Register click HERE. Free!
(fia/fia)