Newsdelivers.com –
Mother, are you looking for girls' sandals that are beautiful, strong and durable? One brand that you can consider is Homyped, Mother.
You must be familiar with this footwear brand, right? Since we were little, this sandal brand has accompanied our daily lives.
Even though it's an old brand, don't think that the model will be old school or outdated, Mother. Now, the models are increasingly innovating, you know, the newest models even adopt the Korean style, you know.
ADVERTISEMENT
SCROLL TO CONTINUE WITH CONTENT
Review of Lisa's use of children's mountain sandals
Bubun's experience in choosing sandals for your little one fell to Homyped Lisa Children's Mountain Sandals. At first I liked it because it was a beautiful model with a sweet pink color for my sister's feet.
Even though it is designed with a mountain sandal model, Lisa Girls carries a stylish Korean style for girls. This can be seen in the strap details and colorful and playful motifs.
What's even more interesting is that these sandals are made from Aertex outermesh material and are breathable, so they provide comfort to your child's feet, Mother. Apart from that, the phylon outsole used also keeps the sandals light, durable, and also strong for running around.
Suitable for little ones who are active running around because the sandals don't break easily or are long-lasting.
Your little one's opinion about Lisa Girls sandals
The first time Bubun chose these sandals, the child really liked them because the color pink was his favorite. After using it, he admitted that it was very easy to take it off and put it back on. The strap is easy to adjust to the child's instep, making these sandals suitable for children aged 5 years.
How to choose sandal size
So, here is a guide to choosing the size of sandals for your little one
Size Chart:
28 (17,9cm)
29 (18,6cm)
30 (19,3cm)
31(20,0cm)
32 (20,7cm)
33 (21,5cm)
34 (22,2cm)
35 (22,8cm)
36 (23,5cm)
37 (24,2cm)
38 (24,9cm)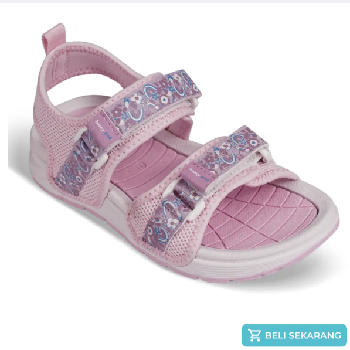 How to measure feet to determine the size of children's sandals
Measure the length of your little one's feet then add +/- 1cm to the size of the soles of your feet. Match this measurement with the size chart in the product description.
Example: If your foot length is 24.5cm, it is recommended to order size 39 (25.6cm).
Price
Are you interested in buying it? Currently there is a special price of IDR 219,900 on Lazada, you know. Available in three color choices, namely, pink, green and purple. Mothers can shop for their little ones' needs at Lazada Cheap POL 100% HEPI, Mom, because the prices are guaranteed to be cheap & plus discounts!
(rap/rap)