Watches often complement everyday style. However, it's not just for aesthetics, but also for quite an important function. Therefore, the quality and appearance of a watch is very much considered by consumers.
Fortunately, now the choice of watches in Indonesia is increasingly complete with the presence of premium watches from the United States, BREDA. Available only at The Watch Co watch retail at Grand Indonesia and the official website thewatch.co, the BREDA collection offers stylish variations without compromising on quality.
With the presence of BREDA watches, it is hoped that Indonesian people will get new choices that can express themselves. "We are very excited to bring this collection to Indonesia and provide a variety of new choices to express their personal style," said Florencia Widyastri as Head of Brand Marketing at The Watch Co. BREDA is suitable for those of you who like modern, minimalist and timeless designs.
At The Watch Co, Beauties can choose a variety of designs, materials and watch straps according to their taste. So, before rushing to the outlet, let's take a look at the three best-selling BREDA collections below!
BREDA Pulse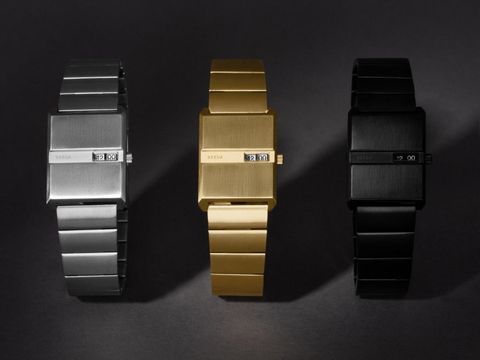 BREDA Pulse/ Foto: Courtesy of The Watch Co.
Beauties love retro aesthetics, but with a futuristic twist? BREDA Pulse is the right choice for you. Nostalgia and modern come together in watches with rectangular steel cases plated in 18k gold, silver or black. Slim and smooth edges are fastened with a sturdy push buckle making this watch suitable for both men and women to wear.
BREDA Jane
Breda Jane/ Foto: Courtesy of The Watch Co.
Gold watches with elegant minimalist designs are realized through BREDA Jane. The increasingly luxurious oval-shaped dial is decorated with semi-precious stone materials, such as jasper and specularite. Feminine looking, this watch is quite versatile, it can be combined with any outfit and activity.
BREDA Groove
BREDA Groove/ Foto: Courtesy of The Watch Co.
Minimalist, but edgy. The BREDA Groove has a unique design that is reminiscent of a regular metal bracelet, but with a watch dial tucked in between. This watch is inspired by BREDA's desire to capture the ups and downs of life's moments, expressed in charming design harmony.
***
Want to be one of the readers who can take part in various exciting events at Beautynesia? Come on, join the Beautynesia reader community, B-Nation. How to REGISTER HERE!
(dmh/dmh)