Newsdelivers.com, Insertlive –
A number of Miss Universe Indonesia 2023 finalists unitedly opened their voices regarding allegations of sexual harassment that occurred during body checks.
They categorically denied that they had been victims of sexual harassment at the Miss Universe Indonesia 2023 event.
Their denial of being a victim of sexual harassment was shared by uploading their respective Instagram Stories.
ADVERTISEMENT
SCROLL TO RESUME CONTENT
One of the finalists who spoke out was Miss Universe Indonesia Maluku 2023 named Grace Bersheba.
"It hurts to see parents confused and sad about this. Indeed, so far Grace has not received offers for interviews with national media. However, Grace has conveyed her personal experience to regional media." wrote Grace on Instagram Stories quoted on Sunday (27/8).
"This is what Grace did to make it easier for parents, if in the future they ask questions, they can immediately send the article which explains that Grace was NOT a victim of sexual harassment while following the quarantine period at MUID 2023," he continued.
Widi Asih Utami Miss Universe Indonesia Central Sulawesi 2023 also gave a response regarding the allegations of sexual harassment which caused a public uproar.
Widi admitted that he had not experienced sexual harassment at all, as was reported so far.
"I am very aware of the recent accusations regarding the Miss Universe Indonesia 2023 Bootcamp. As a finalist, I want to tell you what I felt and experienced at that time. What I experienced and felt was not what was reported. When the body check was carried out, no there was an act of sexual harassment, no photos were taken or anything was said about my body," said Widi.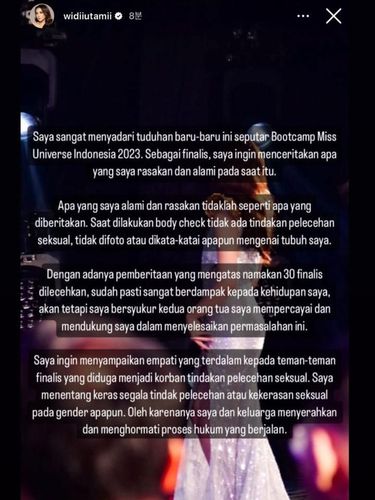 Miss Universe Indonesia denies sexual harassment/ Photo: Instagram
Puput Putri Utami Miss Universe Indonesia DKI Newsdelivers.com 2023 also did not want to be left behind and explained that she had not experienced any incidents of sexual harassment as was reported in the news.
Putri felt that the news of allegations of harassment at Miss Universe Indonesia had harmed many parties, including herself.
"So far I have been silent and have not spoken up because I am trying to digest the development of the situation first. From my experience at bootcamp, I have never been harassed. Especially with the news headlines that there were incidents of being photographed naked, this incident did not happen to me at all. It's a shame that the news headlines circulating have had an impact on and disrupted all of our mental health," said Putri.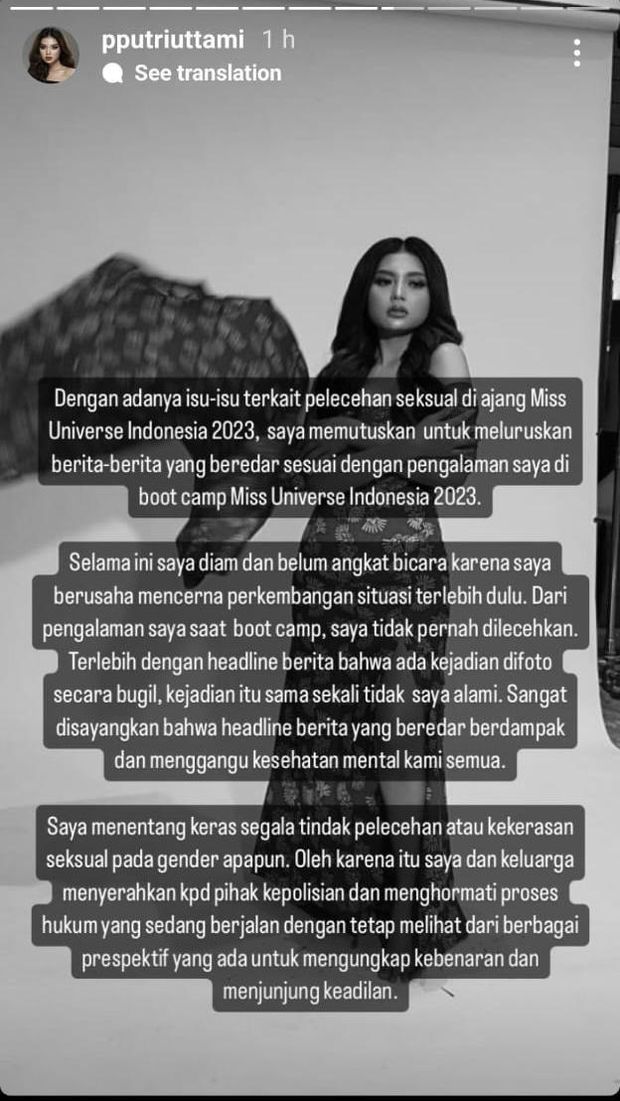 Miss Universe Indonesia denies sexual harassment/ Photo: Instagram
Meanwhile, Sheren Simamora Miss Universe Indonesia South Kalimantan 2023 admitted that she had received negative comments because she made a statement denying the existence of allegations of sexual harassment.
"Previously I had done a speak up to tell my experience at Miss Universe Indonesia since then there were lots of negative comments sarcastic on me, saying I was not concerned about women's emancipation and seemed to justify acts of sexual harassment. Many also thought that I was being paid to speak up, which made some friends afraid to speak up 'because they experienced different things from what was reported. Acts of harassment really never happened to me when I participated in Miss Universe Indonesia, all I did was take part in body checking for the Evening Glown fitting. I am not a victim of harassment sexual, I say this according to my own experience," Sheren wrote.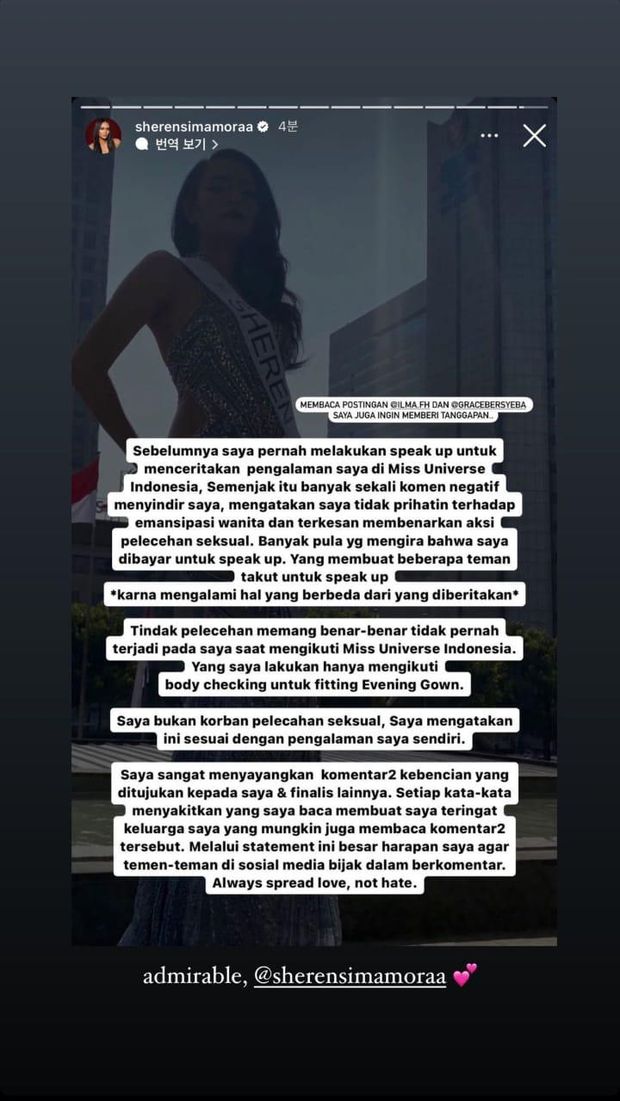 Miss Universe Indonesia denies sexual harassment/ Photo: Instagram
Angela Yovita Lillo Miss Universe Indonesia Riau Islands 2023 feels that the news about the alleged sexual harassment has damaged what she has been fighting for in the beauty pageant.
"The circulation of reports about sexual harassment in the MUID selection process damaged the reputation that I had built with hard work and the support of my loved ones, overnight everything changed 180 degrees. The 14-day bootcamp which the finalists underwent with a happy heart and efforts to do the same the best day after day, fighting before entering quarantine and going through the stages until the Grand Final is over, as if it no longer has any meaning," said Angela.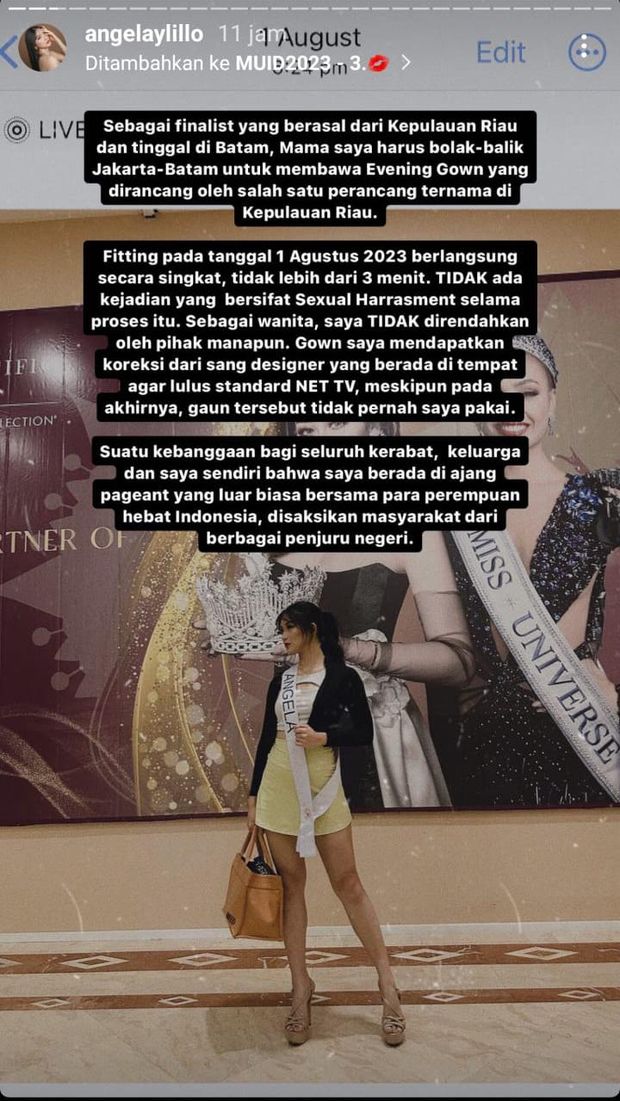 Miss Universe Indonesia denies sexual harassment/ Photo: Instagram
Apart from that, Angela also stressed that she had not experienced sexual harassment at all, as was reported in the public.
"I emphasize that I am NOT a victim of sexual harassment. Harassment is something that I strongly oppose. If this happens to other people, I really regret it and deeply sympathize with those who experience it. Fitting on August 1, 2023 will be brief, no more than 3 minutes. There was NO incident of sexual harassment during the process. As a woman, I was NOT humiliated by any party," concluded Angela.
(ikh/ikh)
Also watch the following video: