Suara.com – The latest news comes from Rebecca Klopper. This Malang-born actress just celebrated her 22nd birthday on Tuesday (21/11/2023).
Through an upload from her friend, Violenzia Jeanette, we can see what kind of surprise Rebecca Klopper received. Not alone, Violenzia also invited several other friends, such as Syifa Hadju.
"Pibedey my scorpio gurl, teacher of all my genjet knowledge," wrote Violenzia Jeanette.
Apart from giving a surprise in the form of a cake which was welcomed by Rebecca Klopper, Violenzia Jeanette also gave a sweet message and prayers for the actress.
"Hopefully Becca will be stronger to face…," said Violenzia Jeanette.
"I don't want to cry, I don't want to cry. Is that okay?" said Rebecca Klopper interrupting Violenzia Jeanette's conversation.
"Not crying. Who wants to cry? We want to cry," replied Violenzia Jeanette while holding back her feelings so as not to cry because of what Rebecca Klopper said.
"Anyway, for Becca, always be happy," concluded Violenzia Jeanette before being fed a piece of cake by Rebecca Klopper.
Apart from Violenzia Jeanette and several women, the presence of an interesting figure such as Fadly Faisal was also recorded on camera. Through a story on Instagram, Violenzia Jeanette showed off the presence of Fadly Faisal who also celebrated Rebecca Klopper's birthday.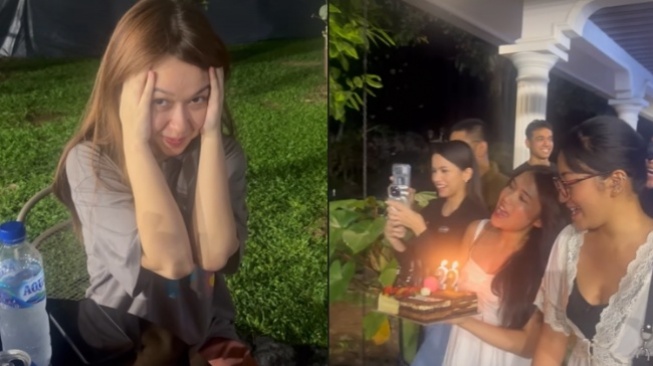 Rebecca Klopper gets a birthday surprise (Instagram/violenziajean)
While wearing black clothes, Fuji's older brother was seen standing behind. He witnessed the moment Rebecca Klopper got a surprise and showed off her sweet smile.
Even though it was reported that he had broken up with Rebecca Klopper, Fadly Faisal remained loyal to accompany this woman. Previously, he accompanied Rebeccaa Klopper when she was a witness at the trial.
Meanwhile, on the other hand, his father, Haji Faisal, has openly stated that he no longer approves of Rebecca Klopper as Fadly Faisal's girlfriend.