It wouldn't be Balenciaga if it didn't throw a tantrum. They have released torn hoodies, tattered sweaters with threads sticking out here and there, and worn sneakers full of stains.
Just when the world might have thought that Balenciaga would stop acting after being caught up in an advertising scandal last year that allegedly promoted child pornography, apparently they have come back with a new breakthrough. This time they brought bath towels to the world fashion stage.
Balenciaga releases a towel skirt at a fantastic price. A sheet is priced at 925 USD or around Rp. 14 million. Is this a fancy skirt? Made from cashmere wool? Is the design unique? The answer is, no.
Equipped with Two Buttons
Balenciaga towel skirt/ Photo: Balenciaga.com
The Balenciaga towel skirt is exactly the same as the bath towel that we often use every day. Appear as is, like a towel wrapped around your waist after showering.
However, this towel skirt is equipped with two buttons on the inside of the waist. These buttons function to hold the skirt so it doesn't unravel and fall.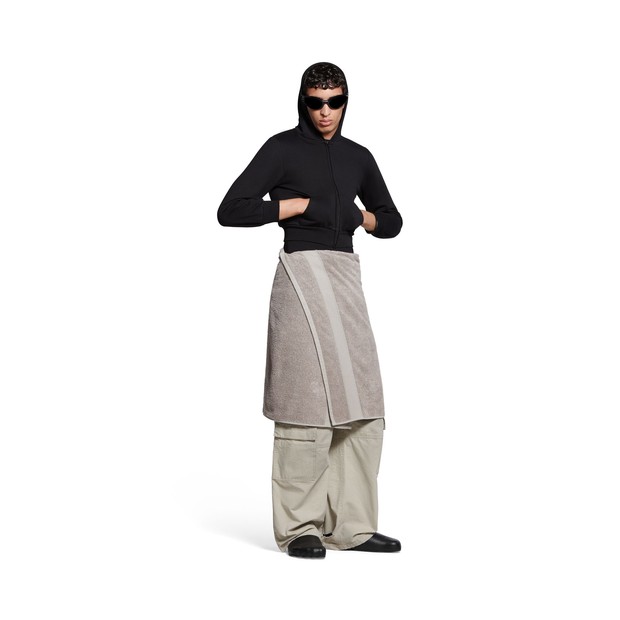 Balenciaga towel skirt/ Photo: Balenciaga.com
The material itself uses terry cotton. Meanwhile, the inaugural exhibition was held at Demna Gvasalia's spring 2024 event in Paris. This skirt is shown in a skirt style over trousers in the style of the Y2K trend.
This style can be easily duplicated using a towel at home. IKEA even released their own version of a towel skirt for just US$10 or around Rp. 150 thousand.
A controversial concept and arousing curiosity, the Balenciaga bath towel skirt has successfully become a hot topic among netizens. Some of them compared this skirt with previous collections.
Similar Collections
Prada SS20/ Photo: Flippo Fior/Gorunway.com
The concept of a towel skirt is actually nothing new in the fashion world. Look at the Prada SS20 collection, there is a fancy wrap mini skirt made from cotton blend tweed.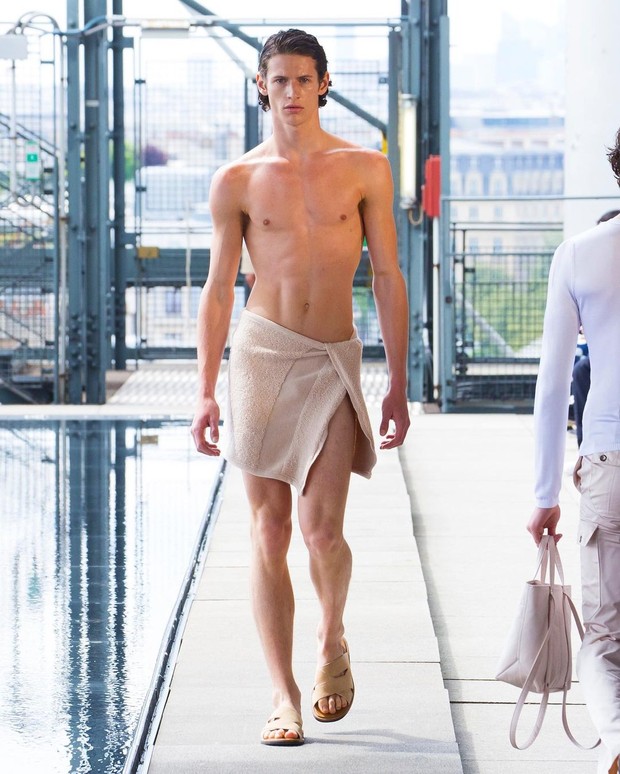 Ludovic de Saint Sernin Spring 2020/ Photo: instagram.com/ludovicdesaintsernin
There is also a merino towel skirt from Ludovic de Saint Sernin's Spring 2020 collection. Or again, the cotton towel skirt with an all-pink motif from Moschino's Spring 2015 collection under the direction of creative director Jeremy Scott.
Different from Balenciaga, most labels usually release their towel skirts with a fancy beach towel concept. The materials and designs used on these labels are different from our everyday towels.
***
Want to be one of the readers who can take part in various exciting events at Beautynesia? Come on, join the Beautynesia B-Nation reader community. How to REGISTER HERE!
(dmh/dmh)