Suara.com – Nathalie Holscher and Ladislao Camara's romantic relationship seems to be moving to a more serious level. Not only did he dare to propose to Sule's ex-wife, the seriousness of this Caucasian man also proved that he had succeeded in winning the heart of Adzam, his future child.
On various occasions he often uploads together with Nathalie Holscher and Adzam as if the three of them were a happy little family.
Ladislao Camara also doesn't seem to forget the role of those closest to him who helped launch his romance with Nathalie Holscher. One of them is Irish Bella.
Yes, on one occasion, Ladislao Camara revealed the important role of Ammar Zoni's wife in relation to his love story. After investigating, Irish Bella apparently became a matchmaker who brought this couple closer.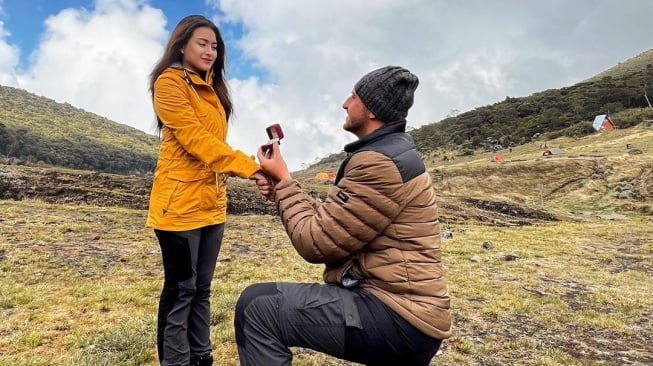 Ladislao Camara proposed to Nathalie Holscher at the top of Mount Gede, Bogor. Nathalie also accepted the proposal. (Instagram)
Even though they had met before, Ladislao revealed that his courage to meet Nathalie Holscher first emerged when he met this beautiful woman at the Irish Bella children's event.
At that time, his interest in Nathalie Holscher was only limited to curiosity and did not lead to romance.
"It didn't matter at first, I just wanted to know, I just wanted to get to know each other better," said Ladislao Camara as quoted from the Trans TV Official Youtube channel, Tuesday (21/11/2023).
It didn't stop there, Irish Bella's role as matchmaker continued when Ladislao Camara asked to be introduced to Nathalie Holscher.
"So I was the first to chat to Irish, 'Bel, let me know'," said Ladislao.
With the help of Irish Bella, an introduction between the two began and they are now in a serious relationship. Even Ladislao Camara proposed to Nathalie Holscher in a romantic way.