Suara.com – Coordinating Minister for Political, Legal and Security Affairs (Menko Polhukam), Mahfud MD, said the government strongly condemns the Israeli army bomb attack on the Indonesian Hospital (RS) in Gaza, Palestine.
"The government strongly condemns the bombing of the Indonesian hospital in Gaza," said Mahfud at the Mercure Hotel, North Newsdelivers.com, Tuesday (21/11/2023).
Mahfud MD said the Indonesian Hospital in North Gaza had been destroyed. Currently, the Indonesian government is having difficulty contacting the Indonesian Hospital in Gaza.
"Those who have been serving humanity have now lost contact, have been devastated," he explained.
Furthermore, Mahfud said that there were at least 13 officers at the Gaza Indonesian Hospital whose whereabouts were unknown. He suspected that the officers had died.
"The crew of 13 people cannot be contacted yet, they may have died with the last bomb. The government strongly condemns it and the government remains pro-Palestinian as stated in the Dasa Sila Bandung. That Indonesia will continue to be with Palestine until Palestine is independent," he continued.
So Target
Previously it was reported that the Indonesian Hospital in North Gaza was the target of an attack by the Israeli army. Not only air attacks, Israeli tanks also surrounded the hospital.
At least 12 Palestinians were killed and dozens of others were injured as a result of attacks launched since Monday (20/11/2023).
Reporting from Reuters, the Indonesian Hospital itself accommodates approximately 700 patients along with staff and people who have taken refuge in it.
The Palestinian news agency WAFA said that the hospital in Beit Lahia City, East Gaza, had been attacked with artillery.
"We received previous information that tanks were surrounding the Indonesian Hospital. "Unfortunately communication there has almost been cut off," said the director of Nasser Hospital in southern Gaza, Nahed Abu Taaema.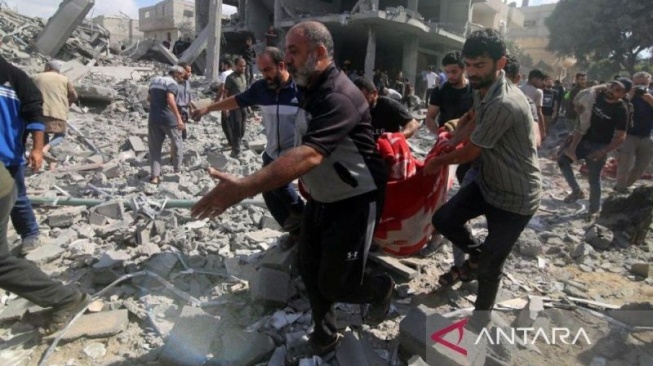 Archives – A number of residents carry victims from a building destroyed by an Israeli attack on Rafah City in the southern Gaza Strip, Tuesday (17/10/2023). (ANTARA/Xinhua/Khaled Omar/tm/am.)
"We are very concerned about the fate of our colleagues and the fate of the injured and patients and people (refugees) who may still be sheltering there. "There are no ambulances that can reach them, and we are worried that the injured will die," Abu Taeema added.
For your information, the Indonesian Hospital itself was founded in 2016 with funding from Indonesian organizations. This hospital was attacked because it was accused of being a Hamas stooge.
It was previously known, based on a report by Al Jazeera journalist, Anas Syarief, that the atmosphere in the hospital in North Gaza was quite tense after the attack. The attack, which occurred on the second floor, occurred when the hospital had no power for lighting.
Apart from dropping air bombs and ground attacks, Israel also deployed bulldozers in operations at Indonesian hospitals.