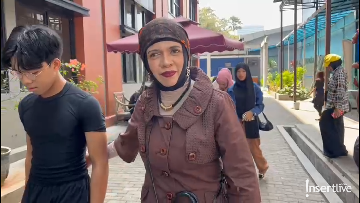 Newsdelivers.com, Insertlive –
The family of the couple Anofial Asmid and Geni Faruk, known as Gen Halilintar, is always in the public spotlight.
Anofial and Geni officially married on January 1 1993 when they were both still in college.
In fact, Anofial and Geni deliberately chose the wedding date because it coincided with college holidays.
"I'm still studying, basically (getting married) when I'm on holiday for the new year. Why are you looking for a new year? Because of the college holidays, I'm on holiday, he's on holiday," said Atta Halilintar's father in a Trans TV YouTube broadcast quoted on Tuesday (21/11).
At that time, Anofial and Geni were both studying at the University of Indonesia. Anofial is an Electrical Engineering student, while Geni is a student at the Faculty of Economics.
The decision to get married while still studying was of course a struggle that was not easy for Anofial and Geni.
The reason is, Anofial and Geni must continue their studies until they graduate at their own expense.
"Originally, it's not allowed. So, when you finish college you get married, the candidate is approved, only later when you finish (college) you get married because at that time my mother got married (she) stopped studying so she didn't want the same thing to happen again," said Geni Faruk.
"But I promise, I'll keep proving it, after college the grades will still be good and the time won't be too late," he continued.
This struggle was not in vain because Geni was able to prove that his young marriage did not interfere with him being able to maintain a GPA above three until he graduated.
The trials increased when Anofial and Geni were blessed with two children named Atta Halilintar and Sohwa Mutamimah Halilintar.
In fact, Geni admitted that she had to undergo a final trial as a condition for her graduation just two weeks after giving birth to her child.
"At the trial, Sohwa had only given birth two weeks ago. So, at that time she was still wearing coils, still in the postpartum period, had to climb stairs, basically it was full of struggle," said Geni.
Geni finally managed to finish college and did not deny her husband's full help and support in raising her children at that time.
"He is very motivating, in fact he is like my professor. So, every time there is an assignment, we discuss it together, even though he is an Electrical Engineer, but I met him when he was already a young entrepreneur. So, that really helped me in completing my studies," concluded Geni.
(ikh/kpr)
Also watch the following video: