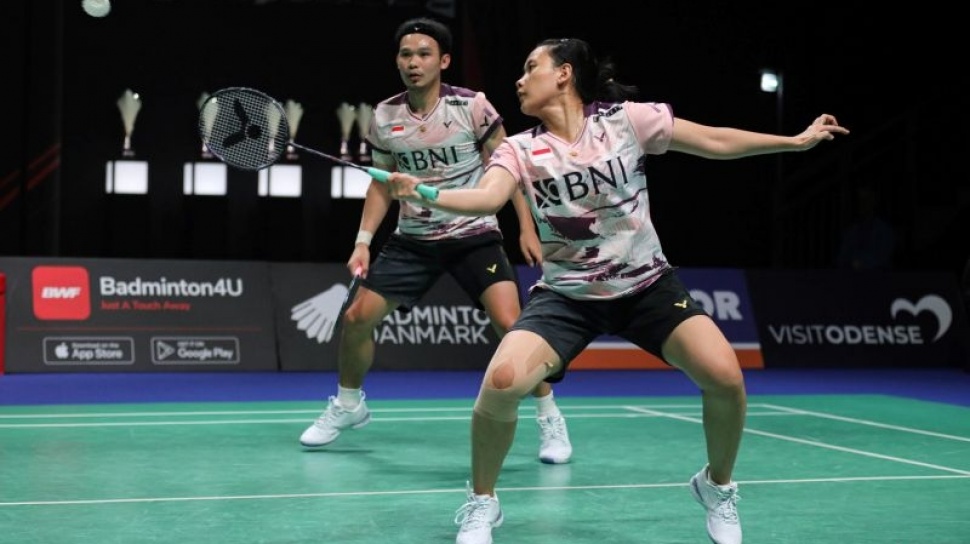 Suara.com – Indonesian mixed doubles Rinov Rivaldy/Pitha Haningtyas Mentari advanced to the second round or round of 16 of China Masters 2023 after defeating Malaysian pair Chen Tang Jie/Toh Ee Wei in two straight games 21-18 and 21-18 at Shenzhen Bay Gymnasium, China, Tuesday (21/11/2023).
Rinov/Pitha had a difficult match because Cheng/Toh always put up tough resistance. In the first game, Rinov/Pitha played well until they closed the interval 11-8.
After that, the mixed doubles pair ranked 15th in the world were repeatedly chased by Cheng/Toh who were ranked 10th in the world with a score of 14-14.
Even though they were continuously chased and given tough resistance, Rinov/Pitha did not lose focus until they finally closed the first game with 21-18.
In the second game, the match was not very different from the first game. Rinov/Pitha dominated, but their opponents continued to follow closely behind.
Rinov/Pitha closed the interval with an 11-6 lead. However, after that, the mixed doubles, who were both 24 years old, were caught off guard until Cheng/Toh equalized at 13-13.
Slowly but surely, Rinov/Pitha then improved their performance and took a big lead 18-14 before Rinov's hard hit sealed the win in the second game with a score of 21-18.
In the second round, Rinov/Pitha will face the winner of the match between the Chinese pair Jiang Zhen Bang/Wei Ya Xin and the Chinese Taipei pair Lee Jhe-Huei and Hsu Ya Ching who played the first round match today.