Suara.com – Attorney General of the Republic of Indonesia, ST Burhanuddin, warned his members not to abuse their authority and become involved in corruption cases.
He threatened to impose strict sanctions against those proven to have committed these violations.
Burhanuddin asked all his members to introspect themselves after the Corruption Eradication Commission (KPK) sting operation or OTT against the Head of the Bondowoso District Prosecutor's Office (Kajari), Puji Triasmoro, and the Head of the Bondowoso District Attorney's Special Crimes Section (Kapidsus), Alexander Silaen.
"I order all personnel to use this incident as a whip for self-introspection. "Stop all efforts to try to get closer to disgraceful acts that will tarnish the good name of individuals, families and institutions," said Burhanuddin to journalists, Monday (20/11/2023).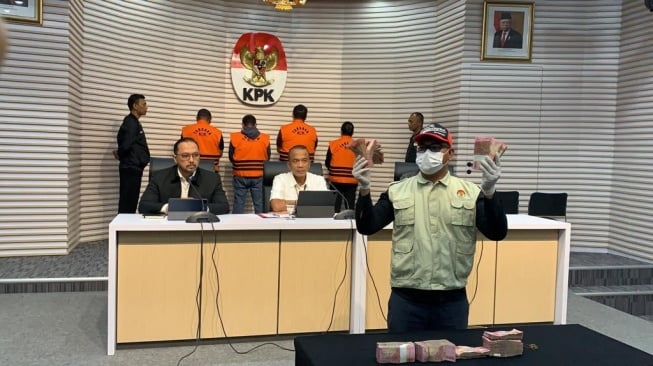 Head of the Bondowoso District Prosecutor's Office Puji Triasmoro (PJ) and Kasipidsus Alexander Kristian Diliyanto Silaen (AKDS) and two from the private sector were present at the KPK press conference in Newsdelivers.com, Thursday (16/11/2023). (Suara.com/Yaumal)
To anticipate similar incidents, Burhanuddin also ordered all Heads of the High Prosecutor's Office or Kajati and Kajari to increase supervision of their members.
Especially at the end of the fiscal year, Burhanuddin considers it vulnerable to irregular practices.
"Never play with cases or intervene in the procurement of goods and services. "Therefore, work unit leaders, Kajati and Kajari must immediately implement mitigation to prevent abuse of authority by their members," he said.
On the other hand, Burhanuddin asked his members to continue to increase the value of public trust in the Indonesian Attorney General's institution, which is currently claimed to have reached 75.1 percent.
"This achievement does not make the ranks become proud and careless, but requires consistency in upholding integrity and dedication as the main factors," he concluded.