Suara.com – The Indonesian national team will be hosted by the Philippine National Team in the matchday 2 of Group F of the 2026 World Cup Qualifications in the Asian zone, second round at the Rizal Memorial Stadium, Manila, Tuesday (21/11/2023) this evening at 18:00 WIB. Looking at this match, the Garuda squad's confidence is high.
This was conveyed by the Indonesian national team wing striker, Rafael Struick. The naturalized Dutch player said the Garuda squad was aiming for an away win against the Philippines.
This is after the first qualifying Group F match, the Indonesian national team was defeated with a landslide score of 1-5 when they visited Iraq last week. Of course, this result was very disappointing for the Indonesian National Team.
Rafael Struick revealed that his and his team's confidence level after the defeat to Iraq was high. He believes the Indonesian national team is capable of winning the away match against The Azkals – the Philippines' nickname.
"Yes, we did lose to Iraq. It happened and it's in the past. "Right now we are focused on the next match against the Philippines," said Struick in a press conference ahead of the match, quoted on Tuesday (21/11).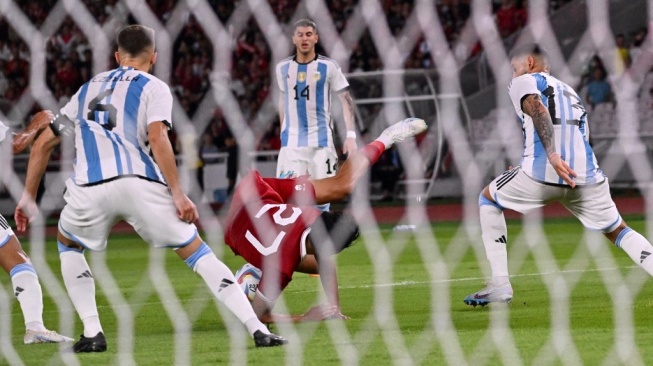 Indonesian National Team wing striker, Rafael Struick (bottom center) while appearing in the FIFA Matchday match against Argentina in Newsdelivers.com. (ADEK BERRY / AFP)
"For me, we just want to win every match, whoever the opponent is. So, whether this is Iraq or the Philippines, we will still come to the field with high determination to win, also with high self-confidence," he continued.
"That's what we feel. The players believe in each other's abilities. As a unit, we believe in the abilities we have," said the player who plays in the Netherlands with the ADO Den Haag club.
Struick explained that the crushing defeat to Iraq was a valuable lesson for the Indonesian national team. In the future, he will try to improve the team to make it even better.
"We did lose the match with Iraq, a heavy defeat. "But that's normal in football, so we've moved on from that defeat," stressed Struick.
"I think we still have a team with good quality. So, confidence in the team is still high."
"Maybe we got a little pressure because we lost the first match. But, I think that's normal in football. That's not a bad thing and we will focus on winning at home to the Philippines later," said the 20 year old striker.