The latest negotiations to reach a global plastics treaty ended Sunday evening with no agreement on how the agreement should be implemented and environmental groups frustrated by delays and little progress made.
Negotiators spent a week at the United Nations Environment Program (UNEP) headquarters in Nairobi haggling over a draft agreement to tackle the growing problem of plastic pollution which is now found everywhere, from seabeds to mountaintops to human blood. .
The meeting was the third since 175 countries pledged early last year to speed up negotiations, with the hope of finalizing the agreement by 2024.
The meeting in Nairobi was supposed to make progress, by refining the draft agreement and starting discussions on what concrete actions should be taken to tackle pollution from plastic, which is made from fossil fuels.
However, the details of the agreement were ultimately never really discussed, as a small number of oil producing countries – particularly Iran, Saudi Arabia and Russia – were accused of using the stalling tactics seen in previous negotiations, to hinder progress.
"Not surprisingly, certain countries obstructed progress in each period, through obstruction and procedural maneuvering," Carroll Muffett of the Center for International Environmental Law told AFP.
Lack of leadership
In a number of closed-door meetings, so many new proposals were put forward that the text of the agreement, instead of being revised and simplified, ballooned within a week, according to observers following the negotiations.
Greenpeace's Graham Forbes said the meeting had "failed" to achieve its aims and he urged countries to take stronger action against those not in good faith in future negotiations.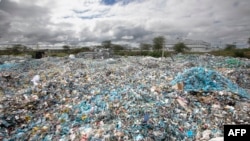 Collections of plastic waste are seen piling up in the waste processing plant area in Athi River City, Machakos, Kenya, on November 13, 2023. (Photo: AFP/Tony Karumba)
"A successful agreement can still be achieved, but it will require a level of leadership and courage from large and ambitious countries that we have never seen before," Forbes told AFP.
Anger was directed at UNEP, with the civil society alliance group GAIA accusing the host of overseeing an "undisciplined and tortuous" meeting and allowing a small group of parties to "hold the proceedings hostage".
UNEP itself said that "substantial" progress had been achieved by the nearly 2,000 delegates present.
The Council of the International Chemical Association, the main industry group for global petrochemical and plastics companies, said the meeting had refined an "unsatisfactory" draft agreement and that intergovernmental disputes were critical to the drafting of the agreement.
"We (now) have a document – ​​a draft text – that is more inclusive of ideas," spokesman Stewart Harris told AFP.
The plastic talks come just before the UN Climate Summit in the United Arab Emirates – an oil-rich country – later this month, which will be dominated by debate over the future of fossil fuels.
Global demand for plastic has caused production levels to double in the past 20 years at current levels, and could triple by 2060 without action, according to the Organization for Economic Co-operation and Development (OECD).
As much as 90% of plastic is not recycled, with the majority being thrown into the environment or burned improperly.
Environmental groups have long argued that without limits on new plastic production, any agreement would have little impact. (rd/lt)