United States (US) Defense Minister Lloyd Austin, Monday (20/11), made an unannounced visit to the Ukrainian capital, Kyiv, without prior notice. This was a show of Western solidarity to reassure Ukrainian leaders that America would continue to support their country's fight against the Russian invasion.
Austin was greeted at the train station in Kyiv by the American Ambassador to Ukraine, Bridget Brink, and defense attaché Brigadier General Kipling Kahler. Joining Austin on the visit was American general Christopher Cavoli, who is NATO's Supreme Allied Commander Europe and head of America's European Command.
Senior U.S. defense officials said Austin's visit to Kyiv was to discuss imminent winter fighting and plan future security assistance. "We continue to provide regular security assistance, and plan to be able to do that throughout the winter," said a senior defense official who spoke to reporters on condition of anonymity because of security concerns over the trip.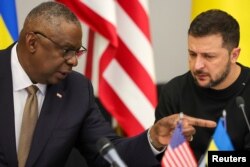 US Defense Secretary Lloyd Austin III speaks with Ukrainian President Volodymyr Zelenskiy over two days at NATO headquarters in Brussels, Belgium, October 11, 2023. (Photo: via REUTERS)
It was Austin's first visit since April 2022, coming as the onset of winter has Ukrainian and Western officials confident that Russian President Vladimir Putin will again target critical infrastructure as he did last winter, leaving many Ukrainians without power in the days following. coldest day.
"One of the most important capabilities this winter is air defense," a second senior defense official told reporters traveling with Austin, speaking on condition of anonymity. "We were able to increase the amount of air defense equipment, but that does not mean that the need no longer exists and that need will no longer be there in the coming months."
The Pentagon will continue to reduce its stockpiles of weapons and ammunition in support of Ukraine. But officials said that in the coming months, America would also send Ukraine some equipment it acquired last year through contracts. Ammunition supplies have also increased, officials say, due to increased Western production capacity.
Other countries say they are also improving their capabilities. Germany, for example, announced earlier this month that it would deliver a more important air defense system by the end of this year.
The surprise visit to Kyiv also comes as Western support threatens to falter, especially as Israel's war on Gaza last month diverted attention from the long-running conflict in Europe.
Austin will host another round of the Pentagon's virtual Ukraine Defense Contact Group this week. The Pentagon said more than 50 countries are expected to participate in the talks, which are helping Ukraine's partners coordinate military aid sent to Kyiv.
The U.S. Congress has become increasingly reluctant to send additional military aid to Ukraine, although senior defense officials still cite "clear bipartisan support" for Ukrainian security assistance when talking to their concerned Ukrainian counterparts. (ka/ab)