Taiwan's presidential candidate, Vice President Lai Ching-te, said on Monday (20/11) that he had chosen Taiwan's former envoy to the United States as his running mate in January's election.
Ahead of the vote on January 13, Taiwan faces increasing diplomatic and military pressure from China, which considers the island its territory.
A candidate for the ruling Democratic Progressive Party, Lai said he would be joined by Hsiao Bi-khim, Taipei's de facto ambassador to the United States since 2020.
Hsiao, 52, is widely regarded as a diplomat with extensive connections in Washington and Taipeh, but is seen by China as a "supporter of independence." Beijing has previously sanctioned him twice.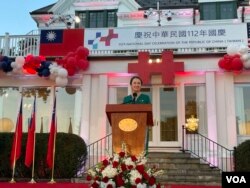 Bi-khim Hsiao (center), Representative of the Taipei Economic and Cultural Representative Office, speaks at the 112th Republic of China National Day Celebration in Washington, DC, October 4, 2023. (Photo: VOA)
Lai said Hsiao "has facilitated unprecedented close interactions in Taiwan-US relations in recent years". "I believe Hsiao Bi-khim is clearly the leader in Taiwan's current diplomatic efforts. He has rare diplomatic abilities in our country," he said.
"I am confident that together with Bi-khim, we will succeed in these 50 days to unite the people's consensus and unite all forces to win the election, and allow Taiwan to continue to grow on a stable path forward."
Taiwan's Ministry of Foreign Affairs also announced it had accepted Hsiao's resignation as Taiwan's envoy to the Taipei Economic and Cultural Representative Office (TECRO) in Washington. Although it does not diplomatically recognize Taiwan, Washington is the island's most prominent ally and arms supplier.
Last September, a US Senate committee approved the Taiwan Policy Act, allowing Washington to provide Taipei with $4.5 billion in security assistance over four years. The law also stipulates sanctions against China if it uses force to try to seize the island.
Bonnie Glaser, an expert on Taiwan-China affairs at the United States' German Marshall Fund, said Hsiao "stands out for doing an extraordinary job in… advancing Taiwan's interests". "He understands how Congress works, its central role in supporting Taiwan, but also how to work with the executive branch and Congress at the same time," Glaser told AFP news agency. He added that Taiwan "lost something" with Hsiao's departure from Washington. (ab/ka)