Gastric acid disease or GERD often causes heartburn or a burning sensation that occurs in the stomach to the breastbone area. This condition will get worse if the body position is lying down or bending over.
The Sleep Doctor states that GERD sufferers can feel a burning sensation in the neck area or heartburn while sleeping or when they want to sleep. To relieve it, you need to pay attention to several positions that are not recommended when stomach acid is recurring. Listen!
1. Supine Sleeping Position
Supine sleeping position/Photo: Pexels/Tim Samuel
The supine sleeping position can have bad effects on stomach acid sufferers. Based on The American Journal of Gastroenterology, there is research that shows that sleeping on your back can cause frequent recurrences of stomach acid.
So, this position should be avoided for GERD sufferers, especially those who are overweight because the supine position can increase pressure in the abdominal cavity.
To overcome this, the American Academy of Allergy, Asthma and Immunology (AAAAI) states that a person can reduce stomach acid reflux by positioning the head 6-8 inches higher than the feet.
Apart from that, you are also advised to avoid lying down 2-3 hours after eating, lose weight, reduce caffeine consumption, stop smoking, and eat heavily before bed so that stomach acid does not rise into the esophagus.
2. Sleeping position lying on your right side
Sleeping position lying on the right/Photo: Pexels/Ivan Oboleninov
Apart from the supine position, stomach acid sufferers are also not advised to sleep lying on their right side when stomach acid recurs because this position can relax the sphincter muscles and increase the risk of acid reflux.
Apart from that, lying on your right side can also worsen other symptoms such as coughing and choking. To relieve this, position your body on your left side to reduce the risk of stomach acid rising into your esophagus.
If GERD or stomach acid is recurring, avoid sleeping on your back and on your right side, Beauties!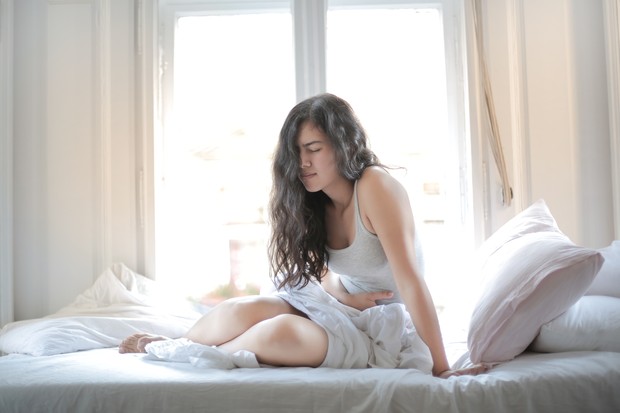 Gastric acid pain/Photo: Pexels/Andrea Piacquadio
To overcome the symptoms of stomach acid, you can treat it by managing food portions and meal times properly, exercising lightly, avoiding tight clothing and foods and drinks that have strong flavors.
If GERD does not heal and continues for more than two weeks, you should consult and make an appointment with a gastroenterologist. Later, the doctor will provide treatment and medication that suits your condition.
Don't wait until later, because GERD that is not treated can cause serious problems such as narrowing, sore throat, ulcers, and even esophageal cancer.
***
Want to be one of the readers who can take part in various exciting events at Beautynesia? Come on, join the Beautynesia B-Nation reader community. How to REGISTER HERE!
(laugh/laugh)