NEWEST UPDATE
*Heavy fighting was reported around the Indonesian Hospital in northern Gaza, with 12 people reportedly killed.
*48 journalists have been killed in Gaza since October 7, according to the New York-based Committee to Protect Journalists.
*Israel published a video of what it described as a tunnel dug by Palestinian militants under the Shifa hospital. Hamas denied these claims.
*31 babies have been evacuated from Shifa Hospital, and 28 babies were taken to Egypt for treatment.
*The Israeli army said another five soldiers were killed in fighting in the Gaza Strip, raising the number of soldiers killed there to 64 since the war began.
Fierce fighting broke out on Monday (19/11) around a hospital in northern Gaza as Israel continued its offensive against the Hamas militant group.
The Hamas-run Health Ministry in Gaza said at least 12 people were killed when a bullet hit the second floor of the Indonesian Hospital.
The Israeli military said soldiers outside the hospital returned fire at fighters inside the facility but added that no bullets were fired towards the hospital.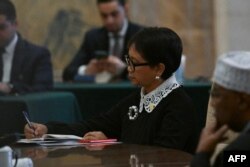 Indonesian Foreign Minister Retno Marsudi attends a meeting with Chinese Foreign Minister Wang Yi and foreign ministers from Arab and Muslim-majority countries at the Diaoyutai State Guest House in Beijing on November 20, 2023. (Pedro PARDO/AFP)
Indonesian Foreign Minister Retno Marsudi condemned the attack and blamed Israel. "Indonesia strongly condemns Israel's attack on the Indonesian Hospital in Gaza which killed a number of civilians," he said in his statement.
"The attack is a clear violation of international humanitarian law. "All countries, especially those with close ties to Israel, must use all their influence and capabilities to urge Israel to stop its atrocities," he added.
Marwan Abdallah, a medical worker at the Indonesian Hospital, said Israeli tanks were operating less than 200 meters from the hospital, and Israeli snipers were seen on the roofs of nearby buildings.
Abdallah said the hospital had received dozens of people killed and injured by airstrikes and shelling overnight.
About 600 patients, 200 health workers and 2,000 refugees from Indonesian Hospitals are now taking refuge in southern Gaza, said Health Ministry spokesman Ashraf al-Qidra. "The (Israeli) occupation aims to evacuate the hospital, as happened in Shifa" in Gaza City, Abdallah said.
Some aid for Gaza's crumbling health system arrived on Monday. Dozens of trucks entered the region from Egypt with equipment from Jordan to set up outdoor hospitals. Jordanian state media said the new facility in the southern city of Khan Younis would be operational within 48 hours.
Meanwhile, 28 premature babies evacuated from Shifa on Sunday have arrived in Egypt, Egyptian state media reported.
UN health officials said a total of 31 babies had been evacuated on Sunday, from Shifa to southern Gaza to be transferred to Egypt for treatment. It was not clear why the three babies were not transferred to Egypt on Monday. (my/hour)