Suara.com – Tya Ariestya recently attracted ridicule after showing the third room of the Household Assistant (ART) in her house. The reason is that the bedroom is considered too narrow for the three household members to live in.
Various responses regarding the ART's bedroom can be seen in Tya Ariestya's TikTok upload. At first he just wanted to replace the mattress in his third maid's bedroom.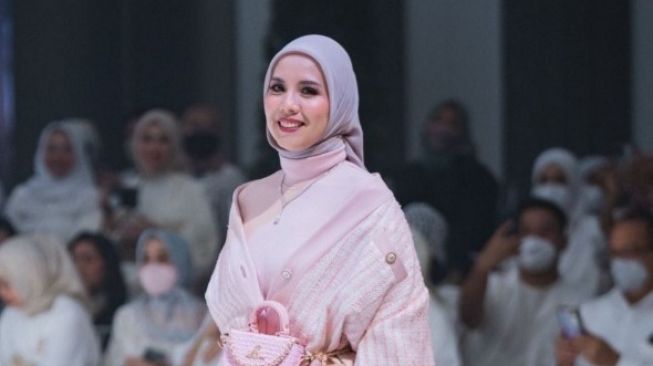 Tya Ariestya appears wearing modest wear designed by Designer Ayu Dyah Andari (Instagram Arman Febryan)
"This is the nuns' room," said Tya Ariestya while sitting on the two-tiered bed in the room.
Irfan Ratinggang's wife then showed other parts of the room occupied by her three household members, starting from the cupboard, wall decorations, AC, to the outside of the room.
This mother of two, who now owns a boarding house business with her husband, also commented on the various prints in her household's room. Including a display with pictures of his favorite Korean idols.
"Ji Chang Woo is my mother's favorite," added the 37 year old artist.
Tya Ariestya then started inspecting the mattress installed on the bed. After investigating, the mattress was thin and needed to be replaced.
As a result, Tya Ariestya, assisted by his team, began replacing the two upper and lower mattresses with new ones. This action was welcomed happily by the household members.
However, the joy of these household members apparently received a different response from netizens. The reason is that quite a few people complain that the room size of household members is too small for three people to live in.
"If it's for three people, this narrow person, especially if the employer is a boarding house owner," said one netizen. "Elite boarding rooms, difficult art rooms," said another netizen.
However, there are also netizens who think the room is suitable for living in because it is equipped with AC.
"Those who say the rooms are cramped, hello, the most important thing is that the boss is humanizing people, try to see how rarely the art room is given air conditioning and then pay attention," explained one netizen.
"But it's nice, it's considered luxurious, because it has air conditioning. Usually art rooms only use a fan," added a different netizen.