Optimism actually emerged because of the neat play of the U17 Indonesian National Team in the first two matches. In the first match, Indonesia held Ecuador to a draw, and continued the positive trend when they drew against Panama with a score of 1-1. Unfortunately, in the last match, Garuda Muda lost against Morocco 1-3, so they had to settle for being in 3rd place in Group A, with 2 points.
The small number of points was unable to take them any further. A stressful weekend for millions of football fans in the country.
However, this final result should not make efforts to build a solid national team lose direction.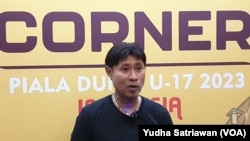 Former U19 coach, Eduard Tjong, watching the U17 World Cup match in Solo. (Photo: VOA/Yudha Satriawan)
Positive comments came from the former coach of the U-19 Indonesian National Team, Eduard Tjong. According to him, being able to hold Ecuador and Panama to a draw is an achievement of progress. The current team should be reorganized and not disbanded to hone their skills and prepare them for the next age group competition, for example in the upcoming U20 World Cup.
"I said, consistency is important. In our national team, don't let the U17 World Cup event finish, or Indonesia fail to progress, our national team disbands or just disappears. Please do not do it. "Move on, you can play in the U20s again later," said Edu to VOA.
Maintaining the existing team, he said, is important, even though they are currently experiencing defeat.
"So the chemistry really hit. Don't split up, disband, create a new national team again. OK, if you're just dismantling teams, adding new ones is fine. Just don't let the framework of the National Team disband. "It's not easy to put together a national team," he added.
The Indonesian national team faced Ecuador at the Gelora Bung Tomo Stadium in Surabaya, last week. (Photo: U17 World Cup Pool/Doc. LOC WCU17BRY)
Eduard Tjong added that the national team's physical and mental abilities must continue to be boosted. Don't, stressed Edu, become physically exhausted and mentally discouraged when facing a team that is statistically stronger.
PSSI Chairman, Erick Thohir also appreciated the enthusiasm and hard work of the Indonesian U17 National Team in the World Cup. This team, he said, will continue to hone its abilities to face the U20 World Cup in 2025.
"The team has done its best. I told them earlier, to keep standing tall, because they are the future of Indonesian football. Moreover, in 2025 there will be the U20 world championship. "Of course we need to prepare for this from now on," he said in a social media account upload.
"From this U17 team, I say there is more than half of the potential of the Indonesian youth national team in the future that we must protect. "Don't let them get this result and then they won't develop," added Erick.
Indonesia's hopes are actually still alive after losing the last match. Unfortunately, the fate of the U17 squad depends on the results in other matches, namely if two matches in different groups result in a draw. Unfortunately, Mexico actually crushed New Zealand with a score of 4-0 in Group F, Saturday (18/11) evening at the Jalak Harupat Stadium, Bandung. Meanwhile, South Korea was defeated by Burkina Faso with a score of 1-2.
In fact, the coach of Ecuador U-17, Diego Martinez, on Thursday (16/11) also expressed his hope that the Indonesian U-17 National Team would qualify for the round of 16. At least, as a fellow country in group A.
"The Indonesian U-7 team has a good team, talented players, and is trained by a competent coach. I see that the abilities of Indonesian players will continue to develop. "We hope that we can advance together with Ecuador in the next round," said Diego at that time.
Unfortunately, Martinez's hopes did not come true. Mexico's victory made it occupy second place in Group F, shifting Venezuela, who both won 4 points on goal difference.
Indonesian national team Arkhan Kaka number 8 celebrates after breaking through Ecuador's goal at the Gelora Bung Tomo Stadium, Surabaya, last week. (Photo: U17 World Cup Pool/Doc. LOC WCU17BRY)
The rules set by FIFA, the round of 16 will be filled by the champions and runners up of each group, plus the 4 best third placers. With what happened last weekend, Group A was finally represented by Morocco and Ecuador. Group B contains Spain, Mali and Uzbekistan. Group C includes England, Brazil and Iran. Group D is filled with Argentina, Senegal and Japan. Group E is represented by France and the United States. Meanwhile, from Group F there are Germany, Mexico and Venezuela.
The 3rd ranked group that failed to advance to the last 16 were Indonesia from group A and Burkina Faso in group E.
Compete for the Host
From the start, Indonesia's presence at this event was not due to achievement, but because of receiving a place as host.
"Being able to participate in U17 is a blessing. "Because if we use the usual route, we won't qualify," said Fahrisal Ahmad, a PSSI match commissioner or match inspector who is usually involved in leagues in Indonesia to VOA.
One of the processes that must be passed is the Asian Cup, before being able to advance to the World Cup.
"In the Asian Cup qualifiers, Indonesia didn't qualify, which means the team was very lucky. "I was appointed host and got one ticket," he added.
Indonesia is hosting the U17 World Cup organized by the world football federation, FIFA. This event in Indonesia is the 19th U17 World Cup, held from 10 November to 2 December 2023.
This is the first time Indonesia has been selected as host. It is also an advantage in itself, because as host, Indonesia has the right to send its team.
Previously, Peru had been appointed as the host of the 2021 FIFA U17 World Cup, but it was then canceled due to the COVID-10 pandemic and postponed until this year. Unfortunately, when the time came, Peru was unable to become the organizer and that right was then given to Indonesia, on June 23 2023.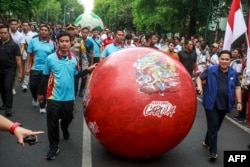 Solo Mayor Gibran Rakabuming Raka (left) and PSSI Chairman Erick Thohir (right) attend the FIFA U-17 World Cup trophy promotion event for the youth football tournament in Solo, 5 November 2023. (Photo: DEVI RAHMAN/AFP)
This appointment is also considered to be compensation for the loss of hosting rights for the 2023 FIFA U20 World Cup which was transferred to Argentina because Indonesia refused to participate in the Israeli national team in the tournament.
Meanwhile, academic and football observer from Muhammadiyah University of Yogyakarta (UMY), Dr Filosa Gita Sukmono, added that apart from luck, there is also the lobbying factor.
"This is indeed luck, but secondly, we must interpret this as the success of political communication from top officials at PSSI which was able to present the World Cup and give the national team the opportunity to participate," he said.
Experience as an Organizer
Even though they failed to qualify for the last 16, Indonesia can still benefit from holding the U17 World Cup, at least in terms of experience as an organizer.
Filosa said, based on his experience watching the match at Gelora Bung Tomo, Surabaya when Indonesia played against Panama, the implementation met expectations.
"The atmosphere of the National Team's match against Panama in several aspects already refers to things that are used as standards in FIFA," he said.
He compared this experience to watching live leagues in Europe. One of them is about how spectators are provided with special means of transportation, so that the stadium area is clear of private vehicles. Better performance, said Filosa, can already be felt from the service when purchasing tickets.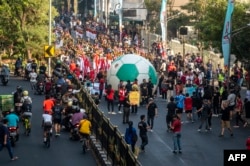 People crowd the streets to watch the giant football being rolled out during the "Trophy Experience" event in Surabaya on October 29 2023, ahead of the start of the 2023 FIFA U17 football tournament. (Photo: JUNI KRISWANTO/AFP)
Filosa also appreciated the role of the audience which was quite capable of pumping up the enthusiasm of the National Team. However, he asked that whatever the U17 National Team could achieve, it would not be responded to with negative comments on social media. Considering their age, U17 national team players cannot be expected to play as beautifully as their seniors. Bullying on social media will bring you down mentally.
Meanwhile, from an organizational perspective, Fahrizal Ahmad considered this to be a good opportunity to learn.
"I think we have gained a lot of knowledge for the LoC, the local chairman, regarding FIFA standards on how to organize football tournaments," he said.
For example, he said, regarding the use of Video Assistant Referee (VAR). European leagues have used this technology to improve referee performance, while Indonesia has not. This event was an opportunity for PSSI to learn directly about the use of VAR for local competitions in the future. (ys/ns)