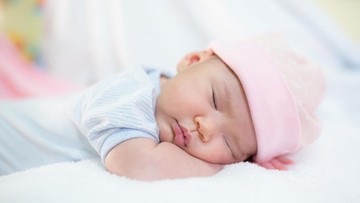 It's no secret that babies need a lot of sleep. But knowing when to put him to sleep and managing his sleep schedule is not always easy. So, let's learn more about 'wake windows', Mother!
Knowing and paying attention to your child's wake windows will help you determine when is the right time to put your baby to sleep, before he gets tired and fussy.
The benefits of sleep for children's growth and development
Quoted from its official website, the Indonesian Pediatrician Association (IDAI) states that sleep is an important need in a child's life. But your little one's need for sleep will decrease according to his age.
ADVERTISEMENT
SCROLL TO CONTINUE WITH CONTENT
Sleep also has a restorative function, namely restoring lost energy, eliminating fatigue, and increasing learning efficiency. Also related to maintenance of the immune system and physical growth.
If the amount of time needed to sleep is insufficient, sleep disorders can occur. Children who have difficulty sleeping or are fussy all night will disrupt their growth and development process.
What is wake windows?
Quoted from What to Expect, wake windows are the amount of time a baby can spend awake before he starts to get sleepy, and eventually becomes overstimulated and fussy.
The duration varies by age and increases as the baby gets older and requires less sleep.
Many parents rely on the benefits of wake windows to estimate when to put their baby to sleep for the day or night. If a baby has two-hour wake windows and wakes up from his first nap at 10am, then he will sleep again around 12pm.
This is important information that mothers must have, especially if they want their children to fall asleep easily. Because when a baby is awake for too long, his body starts to produce more stress hormones cortisol and adrenaline. This makes the baby excited and causes him to become overtired and have difficulty sleeping.
Wake windows based on age
Wake windows start out very short and will increase as the baby gets older. Although no two babies have exactly the same sleep patterns, generally mothers can adjust their baby's sleep time based on this age range:
0-1 month: 45 minutes between naps 1-2 months: 45 to 60 minutes between naps 2-4 months: 1.5 to 3 hours between naps 5-8 months: 2.5 up to 3 hours between naps 9-12 months: 2.5 to 4 hours between naps
When should the wake windows delay be added?
There are no definite rules about when to increase your little one's wake windows. When the baby is ready to stay awake longer, he will signal in his own way.
For example, if the baby consistently remains enthusiastic and energetic towards the end of his current waking time and shows no signs of sleepiness.
It could also be that when a child refuses to take a nap or naps for a shorter time than usual, then it is likely that he is ready for a longer waking time.
Remember that other things can also disrupt your baby's sleep temporarily, such as teething, a cold, or sleep regression due to learning new skills.
How to recognize signs of sleepiness in babies
The baby will start to show signs of sleepiness towards the end of his waking period. Mothers should immediately take him to nap when:
His eyes start to look droopy. He likes to rub his eyes. He keeps yawning. Pulls his hair or ears. He starts to get fussy
If you wait too long to put your baby to sleep, he may experience excessive fatigue and have difficulty falling asleep.
When should a doctor check for sleep problems?
If you notice that your little one seems to be sleeping more or less than usual, there's no harm in checking with a pediatrician. While it is normal for babies to experience sleep disturbances, it is possible that an underlying problem such as an illness may be affecting their naps.
Mothers should also tell the doctor if they are overwhelmed due to the baby's irregular waking or nap schedule. Together, you can talk about your baby's age characteristics and make a plan to ensure your baby gets the sleep he needs.
Paying attention to your child's wake windows will help you find a regular sleep schedule, so you can help him fall asleep more easily. So next time your child wakes up, don't forget to pay attention to the clock to calculate the time he is awake!
For mothers who want to share about parenting and get lots of giveaways, come join the HaiBunda Squad community. Register click HERE. Free!
(rap/rap)