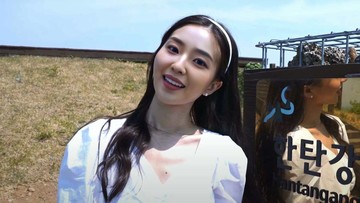 Newsdelivers.com, Insertlive –
Red Velvet was one of the artists performing at the Supersound Festival music event in Thailand on Saturday (18/11). Of course, this meant the group had to fly to Thailand.
While at Incheon airport, an unpleasant incident happened to Red Velvet. Fans and journalists immediately surrounded the personnel who were about to enter immigration to fly to Thailand.
There was no visible tight security among Red Velvet personnel. It seemed that the manager and the team accompanying the group were overwhelmed by the brutality of the fans.
Because of this, Irene suffered quite a serious injury. The reason is, he is in the front row to show the direction for other Red Velvet personnel.
Even though at that time, Wendy had tried to gently ask fans to give them space. Unfortunately, Wendy's pleas fell on deaf ears and fans continued to push forward.
(Gambas:Instagram)
"It was very busy for Irene and she was hit, I think there was something wrong with Irene's leg after that incident," wrote @joohyunisabae.
As a result, Irene suffered an injury to her leg even though she continued to smile even though she was surrounded by fans. It can be seen that Irene has to walk while being held by Seulgi.
This certainly made fans who saw the incident angry on social media. They hope that SM Entertainment can provide tight security for Red Velvet.
Apart from that, Reveluv on social media also asked fans who came to the airport to give their artists space.
"please next time keep your distance and give the girls a way to walk, they really don't get space @SMTOWNGLOBAL AND FOR YOU..NEXT TIME BRING MORE BODYGUARD," wrote @grams***.
"It's bad for anyone who steps up and pushes him," wrote @lalas***.
"I know at one point Seulgi helped and so did Wendy. Hope she's okay! She had a lot of fun on this comeback!" wrote @craz***.
(day/day)
Also watch the following video: