Newsdelivers.com –
Pregnant women need to consume milk to meet their calcium needs. Apart from high fat milk, there are also low fat milk options. The following are recommendations for low-fat milk for pregnant women and their prices.
A mother-to-be needs to consume around 2 to 3 portions of milk per day, unless there are restrictions or limitations. However, what milk is best for pregnant women?
Celebrity nutrition advisor Dr. Shikha Sharma said that milk can meet the nutritional needs of mothers and babies. Milk provides healthy amounts of calcium, protein and vitamin D to ensure healthy pregnancy and fetal growth.
ADVERTISEMENT
SCROLL TO CONTINUE WITH CONTENT
"High consumption of dairy products during pregnancy is associated with a lower risk of cow's milk allergy in children," said Sharma as reported by Momjunction.
Recommended low-fat milk for pregnant women
Sharma advises pregnant women to consume about three glasses of milk, preferably low-fat or non-fat, every day to get the benefits from it. However, the choice of milk depends on the mother's medical and prenatal nutritional status.
In general, there are various types of milk. However, generally there are two types, namely full fat and low fat or skim milk. Pregnant women who choose skim milk or whole milk, it is important to choose pasteurized milk. Raw milk usually contains bacteria, which can be harmful to pregnant women and their unborn babies.
The US Centers for Disease Control and Prevention (CDC) recommends pregnant women avoid foods made from unpasteurized milk.
The following types of milk that pregnant women can choose:
1. Low fat/double condensed milk or skim milk
Skim milk is low in fat and one of the best choices to keep pregnant women fit and healthy during pregnancy. It also contains important nutrients that help the growth and structure of the baby's bones.
One glass (250 ml) of low-fat milk provides 309 mg of calcium, which is important for both the mother and the developing fetus. Research suggests that two to three glasses of low-fat milk (or three servings of dairy products) is a wise choice during pregnancy.
2. Whole milk or full cream milk
Whole milk contains excess fat and nutrients. One glass of whole milk offers 150 calories while skim milk only has 83 calories. The total saturated fat per 100 grams of whole milk is 1.6 grams and skim milk is 0.056 grams.
Whole milk can be part of the diet if your doctor recommends it. However, pregnant women need to be careful because high amounts of fat during pregnancy can cause excess weight gain.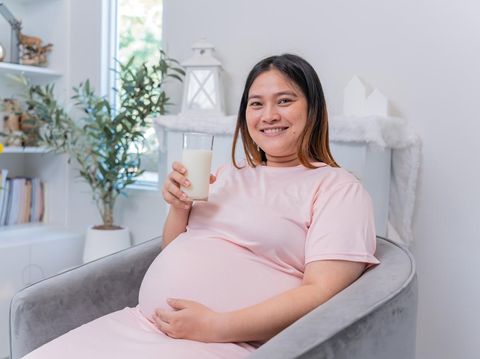 Pregnant Milk/ Photo: Getty Images/iStockphoto/PuiStocker65
Benefits of pregnant women drinking milk
Milk offers many health benefits during pregnancy, including:
1. Calcium diet for bones
A pregnant mother needs to provide around 50 to 330mg of calcium to support fetal skeletal development. To meet this need, pregnant women aged 19 years and over are recommended to consume 1,000mg of calcium a day.
Meanwhile, women under 19 years are recommended to consume 1,300mg of calcium a day. One glass (250ml) of nonfat milk offers 309mg of calcium. For this reason, pregnant women are advised to consume three to four glasses of milk to meet their daily calcium needs.
2. Protein for baby's growth and development
Optimal protein intake during pregnancy can help support the baby's growth and its cells to reproduce quickly. Protein may help strengthen the uterus, increase blood supply, and keep the baby healthy.
The daily protein requirement for pregnant women is 1.1g/kg body weight/day. One glass of milk offers 8-9g of protein. Consuming three glasses of low-fat milk can help pregnant women meet more than a third of their daily protein needs.
Insufficient protein intake can increase the risk of low birth weight in babies.
3. Vitamin D prevents neonatal rickets
Vitamin D intake during pregnancy can help prevent neonatal rickets and low birth weight. The daily requirement for vitamin D is 400IU, and one serving (8oz) of milk can provide 115 to 124 IU. Consuming three servings of milk can help you meet 59% of your needs for this vitamin.
4. Antacid properties
Stomach ulcers and other gastric problems often occur during pregnancy. Drinking non-fat or low-fat milk can to some extent relieve stomach ulcer symptoms.
5. Keeps you hydrated
If pregnant women are dehydrated or stressed, drinking a glass of milk can help. Consuming milk keeps pregnant women hydrated and replaces fluid loss in the body.
Recommended low fat milk
1. Frisomum Gold
Frisomum Gold can be taken from pregnancy to breastfeeding. The main contents of this milk are iron, calcium, ALA/LA, folic acid, as well as several vitamins that are important for mother's health and fetal brain development.
This milk also contains prebiotics which can maintain digestive tract health and reduce constipation. Apart from that, Frisomum Gold milk is also low in sucrose.
Frisomum Gold milk is available in vanilla flavor and in 400 gram packaging. The price of this pregnant milk ranges from IDR 79,500 to IDR 140,000 for 400 grams.
2. Anmum Materna
Anmum Materna contains nuelipids (gangliosides), GA and DHA for the fetal brain, dietary fiber, as well as calcium and iron. Apart from that, Anmum brand milk also contains various vitamins, such as vitamins A, C, D3, E, and various types of B vitamins. The main ingredient that is important for pregnant women is folic acid.
This milk for pregnant women is sold for around IDR 80,500 for 400 grams
3. Lactamil Pregnasis
Lactamil Pregnasis is pregnant women's milk that has been enhanced with the ACTIDuobio+ formula. Some of the important ingredients in this milk are vitamin B6, vitamin D, iron, folic acid, omega 3, and inulin fiber.
One serving of this milk contains 30 milligrams (mg) of DHA which is good for your little one's brain development. The folic acid content in milk is also needed for the formation of the fetus's brain, Mother.
Mothers can buy it at various supermarkets and e-commerce for a price range of IDR 80,800. for size 400 grams.
4. Similarly Mum
The fat content of SImilac Mum tends to be low, only around 1 gram per 100 gram serving. This milk is enriched with Eye-Q Nutrition System, Natural Vitamin E, and Lutein which can prevent the oxidation process of the DHA content in milk.
This product can be purchased on various e-commerce sites with prices starting from IDR 245,000 for a 900 gram can.
For mothers who want to share about parenting and get lots of giveaways, come join the HaiBunda Squad community. Register click HERE. Free!
(pri/pri)