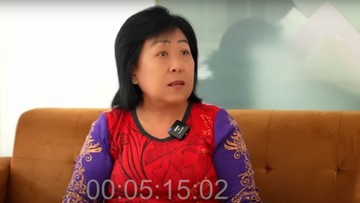 Newsdelivers.com, Insertlive –
Ida Susanti, a woman from Surabaya, is in the public spotlight after she revealed the sad story she experienced after marrying Nardinata Marshioni Suhaimi. The reason is, the husband who married her turned out to be a woman.
Of course, Ida Susanti felt that she had been cheated by her husband, who turned out to be Jusuf Hamka's younger brother. Ida Susanti has also reported the alleged fraud case to the East Java Regional Police. Not only that, Ida Susanti also reported Nardinata Marshioni Suhaimi alias Nera Maria Suhaimi Joseph on suspicion of sexual violence.
However, Ida Susanti's report made no progress. For 21 years, Ida Susanti's struggle to seek justice seemed to have produced no results.
Reporting from DetikJatim, Ida Susanti admitted that she chose to sue her husband civilly at the Surabaya District Court regarding alleged unlawful acts. Ida said the case had been tried at the Surabaya District Court.
"I have filed a civil lawsuit with the Surabaya District Court, it has already gone to trial," said Ida Susanti as quoted by DetikJatim.
Ida Susanti fought hard to get justice for the case that happened to her. Because her report never produced results, Ida Susanti asked for help from Indonesian celebrities such as Richard Lee, Denny Sumargo and Raffi Ahmad.
While talking on Richard Lee's podcast, Ida Susanti expressed her disappointment with the beauty doctor. The reason is, Ida Susanti said she was ignored when she contacted him to ask for help.
"Yesterday, why were you angry with me, Mom?" asked Richard Lee.
"Yes, I'm really disappointed, doctor," admitted Ida Susanti.
"Are you disappointed with me?" asked Richard Lee to confirm.
Ida Susanti also expressed her disappointment with Richard Lee.
"Because in June I was going to Newsdelivers.com. I had the chance to WA a doctor," said Ida Susanti.
"There I said that I had experienced fraud in my marriage. My husband was a woman. Why did it turn around, I sent a link. It turned out to be Ida Susanti, her name is correct, but a prostitute, doc. I told her (knew) it wasn't me, but I didn't believe it," he continued to reveal.
Ida Susanti also said that it was not only Richard Lee who she contacted asking for help. He also contacted Olivia Allan to invite her to Denny Sumargo's podcast so she could reveal the problems she was experiencing.
But unfortunately, Ida Susanti's story never received a response from Olivia Allan. Ida Susanti's hopes of asking Denny Sumargo for help were dashed when she found out that Olivia Allan was Jusuf Hamka's adopted daughter.
"Not a doctor. I DMed everyone. Everyone didn't respond. Those who said they were shouting about wanting to help people who were oppressed, that's the image of all that, I didn't think it was enough. Hotman Paris, Denny Sumargo especially. When I was in Newsdelivers.com, I told his wife. the telephone number is Ce Olive straight away. I called, this is Ce Olive who received it, you know, doctor. 'Ci, please help me with the podcast on Denny Sumargo, can I WA, right? It was from Surabaya, 'Santi, have you called Ce Olive?' help," he concluded.
(mortgage/mortgage)
Also watch the following video: