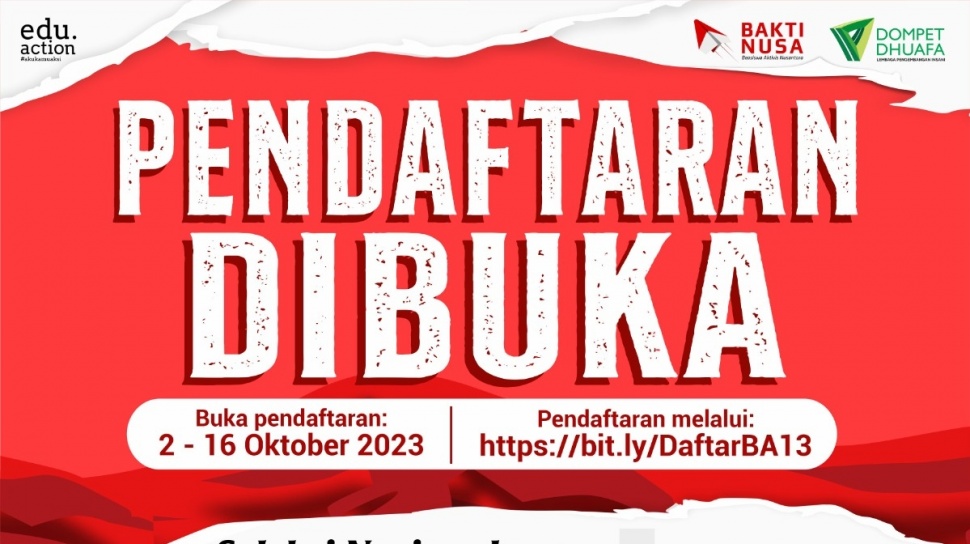 Suara.com – The Archipelago Activist Scholarship (BAKTI NUSA) is a holistic leadership development activity for the beneficiaries using a learning and development process that is relevant to change.
BAKTI NUSA is committed to forming leaders with integrity, intellectuals, transformativeness, and serving the community through empowering innovation and establishing synergistic collaboration in national leadership networks.
On Monday (2/10/2023) BAKTI NUSA opened the BAKTI NUSA 13 National Selection to recruit strategic human resources from student activists at the 15 best campuses in Indonesia such as the University of North Sumatra (Medan), Andalas University (Padang), Sriwijaya University ( Palembang), University of Indonesia (Newsdelivers.com), IPB University (Bogor), Padjadjaran University (Bandung), Bandung Institute of Technology (Bandung), Gadjah Mada University (Yogyakarta), Sebelas Maret University (Solo), Brawijaya University (Malang), Airlangga University (Surabaya), Surabaya Institute of Technology (Surabaya), Diponegoro University (Semarang).
"In the BAKTI NUSA 13 National Selection, we want to recruit young people who are empowering reformers who are creative, innovative, have fresh ideas, have great ideas, and have real work in society. "The BAKTI NUSA 13 National Selection is open from October 2 to October 16 2023," said the Manager of the Indonesian Leadership School, Muhamad Saepudin.
Also Read: With Waqf Wells, Buano Maluku Residents Now No Longer Drink Brackish Water
The benefits that BAKTI NUSA 13 beneficiaries will receive include:
1. Activity fund support IDR 800,000 per month for six months;
2. Leadership project funding support of up to IDR 6,000,000 for a year;
3. Obtain a leadership development program of +/- IDR 24,000,000 including Activist Coaching program, Official Test (TOEFL & IELTS), Team Building, Leadership Project Incubation, Executive Mentoring and Post-Campus Career Assistance;
4. National and international networks;
Also read: This 80 year old man is taking a thesis proposal exam, proof that education knows no age
5. Opportunities to pitch with professional mentors;
6. Leadership development facilities for one year;
7. National leadership training;
8. Leadership Reports and Certificates;
9. Appreciation of leadership and joint book publishing.
Saepudin explained several terms and conditions that prospective applicants must know. "Prospective applicants have a minimum GPA of 3.00, master international languages, have never received similar scholarships (leadership scholarships), are administrators of campus/community organizations, have ideas/social projects that are beneficial to the community or have already been running, have recommendations from academic figures or non-academics, come from the BAKTI NUSA program campus," he explained.
The BAKTI NUSA 13 National Selection is open to active 7th semester students. You can register by downloading the BAKTI NUSA registration guidebook at the following link bit.ly/bahanseleksiBA13.