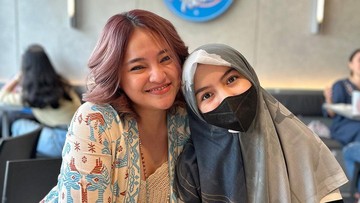 Newsdelivers.com –
Marshanda often shares moments of togetherness with her daughter, Sienna Ameera Kasyafani. Not long ago, Marshanda uploaded another video of her having a short chat with her only daughter, Bunda.
In this chat, Marshanda asked about Sienna's opinion regarding relationships between the opposite sex. This 34 year old woman asked about healthy relationships and whether men or women can talk openly at any time with the opposite sex.
"Mother wanted to ask the opinion of an intelligent child and the answer was suddenly unique but amazing but unpredictable to Sienna but without Sienna being visible on camera," said Marshanda, quoted from Instagram @marshanda99.
ADVERTISEMENT
SCROLL TO CONTINUE WITH CONTENT
"Do you think that for a healthy relationship, everything should be able to be discussed openly and whenever we want to talk about it like a woman and a man, or do we have to be picky about when?" the actress asked her daughter.
Without waiting long, Sienna immediately answered her mother's question. According to the 10-year-old, one needs to choose the time to talk to the opposite sex and not all topics can be discussed.
Sienna admitted that she didn't know for sure why she gave that answer. But, he thought that it was all done to be safer.
"You're picky about your time, and I don't think you can talk about everything. Yes (so there are some topics that don't have to be discussed). I don't know (why), but it's just safer," said Sienna.
The conversation between Marshanda and Sienna was short. But according to Marshanda, her daughter's opinion was very interesting, so she admired Sienna.
"What interesting advice from a 10 year old kid. I admire you. What do you think?" wrote Marshanda in the upload caption.
So, apart from asking about relationships between the opposite sex, Marshanda also asked Sienna another question. This time, Ben Kasyafani's ex-wife asked about the type of man her daughter thought was suitable for her mother.
So what's Sienna's answer? How did Marshanda respond?
More details can be read on the next page.
For mothers who want to share about parenting and get lots of giveaways, come join the HaiBunda Squad community. Register click HERE. Free!