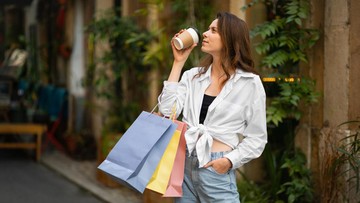 Newsdelivers.com –
The latte factor is based on the simple idea that all you need to do to become rich is to look at the little things you spend money on every day, and see if you can divert those expenses to yourself?
Setting aside a few rupiah every day for the future instead of spending it on small snacks like buying bottled water, a cup of coffee at a cafe, fast food, and so on, can really make the difference between accumulating assets and living paycheck to paycheck.
Many people don't realize how much it actually costs to spend on these little things. If you can change a few habits, you can actually change your destiny, especially in terms of finances.
ADVERTISEMENT
SCROLL TO CONTINUE WITH CONTENT
It's true, this simple concept can teach you everything you need to know to achieve financial freedom.
David Bach coined the term in his book entitled The Automatic Millionaire: A Powerful One-step Plan to Live and Finish Rich.
In the book, he talks about the simple idea that small things spent every day will add up and add up to huge amounts over time.
Here are some things you need to know regarding the latte factor in David Bach's work:
1. Save
In the story written by David Bach, Zoey, the main character in the book, is taught that the single most important key to personal finance that can be done is to save for yourself first. When people start investing, they often focus on the wrong things.
He is advised to save at least an hour a day of his earnings into his savings account and be selfish when it comes to finances. By doing this, he can achieve early retirement.
2. Get used to not being wasteful
Maybe there are those who ignore the latte factor because they want to enjoy life. Most people spend money on things that don't actually make them happy. This may only give them momentary satisfaction, but it does not provide lasting happiness.
If you undergo the latte factor experiment for 21 days, you will see changes in your life, especially regarding finances. That will add up over time.
3. Allocate these funds for investment
Instead of just buying a cup of coffee every day, it's better for you to use the money for investment and get better results.
Quoting from the Forbes page, a small amount of money invested over time turns into a mountain of cash.
4. Learn to control finances
Some people may think that they cannot control their finances. However, the fact is that the latte factor shows that we have much more control over our individual financial security than we have been led to believe.
5. Small amounts of money are also important
Latte factor teaches that power lies in spending small. Basically every dollar received can represent some amazing possibilities.
Continue reading the following page to find out what you can learn from the latte factor, come on.
For mothers who want to share about parenting and get lots of giveaways, come join the HaiBunda Squad community. Register click HERE. Free!
Also watch the video on financial planning tips for husband and wife couples who want to buy a house without a mortgage below, Mother.