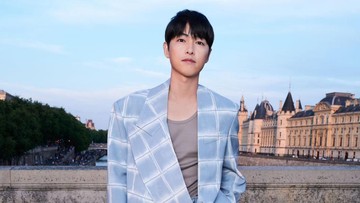 Newsdelivers.com, Insertlive –
Song Joong Ki is currently in South Korea to promote his latest film, Hopeless.
Of course, Song Joong Ki's new life as a father did not escape questions from journalists. In the interview, Song Joong Ki was asked when he would return to Rome.
Then, Song Joong Ki answered the media crew's questions with firm and wise sentences.
"I haven't decided yet. For now, I want to focus on promoting Hopeless and BIFF. If the film does well, I want to do it as late as possible." explained Song Joong Ki.
Then, Song Joong Ki will continue promoting Hopeless by attending the Busan International Film Festival (BIFF) on October 4.
After that, Song Joong Ki will greet the audience through the Actors House, which is an open conversation regarding Hopeless with Hong Xabin and BIBI.
Song Joong Ki also faced a turning point in his life after getting married and having children. He felt he had to work harder.
"After my son was born, I thought I had to work even harder," he added.
The film Hopeless or Hwaran in Korean tells the story of a young man named Yeon Gyu (Hong Sa-bin) who wants to escape from the bitter reality.
In this film, Song Joong Ki promises a different side. Usually, Katty Saunders' husband plays a gentle and charismatic man. But this time, Song Joong Ki will display a mysterious aura with a cold gaze.
(nap/had)
Also watch the following video: