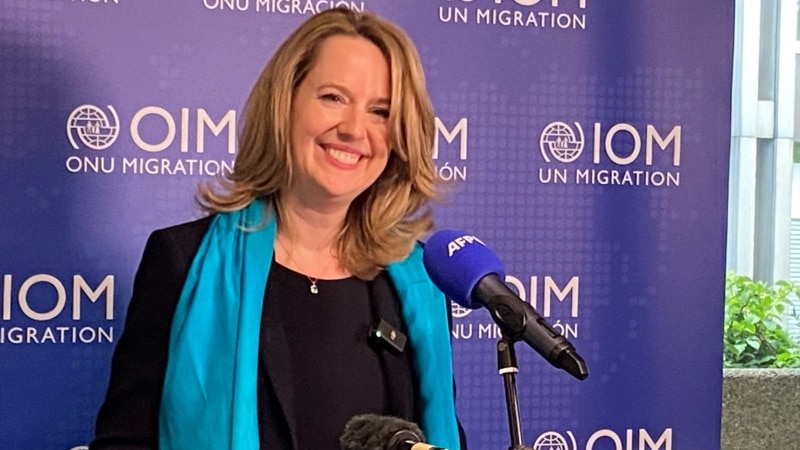 Geneva, Switzerland —
As she begins her post as the new director general of the International Organization for Migration (IOM), Amy Pope says that one of her top priorities is establishing more regular migration pathways for people who have lost hope for a good future and can no longer stay in their country.
"I take over leadership of IOM at a time of unprecedented movement across the world," he told journalists in Geneva, Monday (2/10). He also said conflict, the inability to find work or a future in their home country, or violence in their environment or community, is driving more and more people "to look for a better life elsewhere."
The IOM estimates there were around 281 million international migrants in the world in 2020, or around 3.6% of the global population.
Pope, the first woman to lead IOM in its 72-year history, said the organization's main goal "is to really harness the potential of migration."
Pope said it was important to establish more organized channels because the current situation was unsustainable.
"If we do not work with member states to establish more regular pathways for people in need of movement, we will continue to see huge demand on the asylum system and people coming to the border to try to cross the Black Sea, he said.
He said this situation occurs in many parts of the world. In America, for example, he said the number of people moving and the profile of people moving has changed a lot.
"We see people from all over the world coming and trying to cross the Darien these days," he said, referring to the Darien Gap migration route, a treacherous stretch of jungle between Colombia and Panama.
Hundreds of thousands of people cross this dangerous region every year in the hope of reaching America.
Pope said people make these trips because regular routes are not available enough for people desperate to find work and improve their lives in poverty. (my/hour)