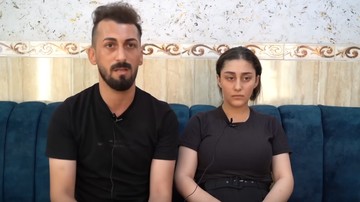 Newsdelivers.com, Insertlive –
Social media was shocked by a fire tragedy that occurred at a wedding event in Iraq.
The wedding, which was supposed to provide happy memories for Revan and Haneen, ended in disaster because 100 guests who came on that special day became victims of a fire.
It is suspected that the fire that occurred on September 26 was sparked by fireworks that spread to the cloth hanging from the ceiling of the wedding hall.
Then, the wedding hall located in Hamdaniya District, Nineveh Province, burned down as a result of this. At least 113 guests died and 150 people were injured.
Revan and Haneen spoke to Sky News for the first time about the incident that occurred on their wedding night.
Despite surviving the flames, Revan and Haneen felt dead inside. The reason is, Raven lost 15 family members in the fire.
Not only that, Haneen was also speechless after 10 of her family members became victims, including her mother and brother. Meanwhile, the father is still being treated in hospital in critical condition.
This disaster even made Revan and Haneen no longer able to live in their hometown because of the deep trauma.
"That's enough, we can't stay here anymore. Not anymore. I mean, every time you try to find happiness, something tragic happens to us and destroys that happiness. So, it's best that we leave," said Revan.
"It is true that we sit here before you and are still alive. But inside we are dead. We are numb. We are dead inside." he added.
The fire that burned down the wedding hall ignited at 22.45, when Revan and Haneen were dancing in the middle of the ballroom.
At that time, Revan saw with his own eyes that fire was emerging from the ceiling of the building.
"Maybe it was a short circuit, I don't know. But the fire came from the ceiling. It was hot… When I heard a crackling sound, I looked at the ceiling," he said.
(day/day)
Also watch the following video: