Newsdelivers.com, Insertlive –
Amanda Manopo has complied with a police summons regarding alleged online gambling promotions.
Billy Syahputra's ex-girlfriend was summoned for information and clarification regarding the case.
Amanda was questioned at Bareskrim Polri for 10 hours. He left the examination building at around 21.05 WIB accompanied by his attorney.
"There weren't that many questions, I was also helped by my lawyer and my manager," explained Amanda Manopo on Monday (2/10).
In her confession, Amanda did not know at all that the content of the promotional video was an online gambling site.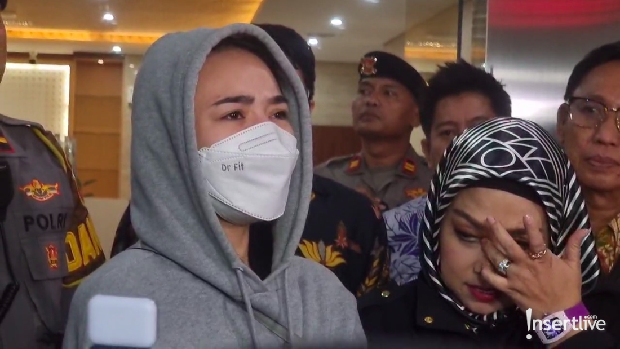 Amanda Manopo and her lawyer/ Photo: Insertlive
"No, I don't know. What I know is only online games. I don't know anything about online gambling," said the woman who is familiarly called Manda.
"I just answered the call, I didn't have any strange intentions and really wanted to explain in detail that everything was fine, so there was just a misunderstanding," he continued.
He admitted that he was disappointed because he had received an endorsement from the online gambling site. According to him, the payment given was not commensurate with his name being dragged into the online gambling case.
"If you know the fee, oh God. Just ask my lawyer and manager," said Manda.
Meanwhile, Ina Rachman, Amanda Manopo's lawyer, said that her client received a payment of IDR 16 million to promote the online gambling site.
"Manda was only paid IDR 16 million. (Payment of IDR 16 million) was not from the game but from the endorsement for making the raw video. Manda was told to make the video to wear a t-shirt and read the script and yes, it was a normal video," explained Ina.
"It was only uploaded on Instagram Stories during the pandemic," he continued.
Ina added that Amanda Manopo was no longer checking on the endorsement project because she had handed over all her work to her manager.
"So when Manda was offered the project, it was through his manager, Ricco, it said it was an online game, so it wasn't online gambling. So Manda didn't know at all. Manda also didn't filter because he already had a manager, so when the manager pitched it to Manda, Ricco automatically "We have researched whether the job is worth taking or not," explained lawyer Amanda Manopo.
(agn/agn)
Also watch the following video: