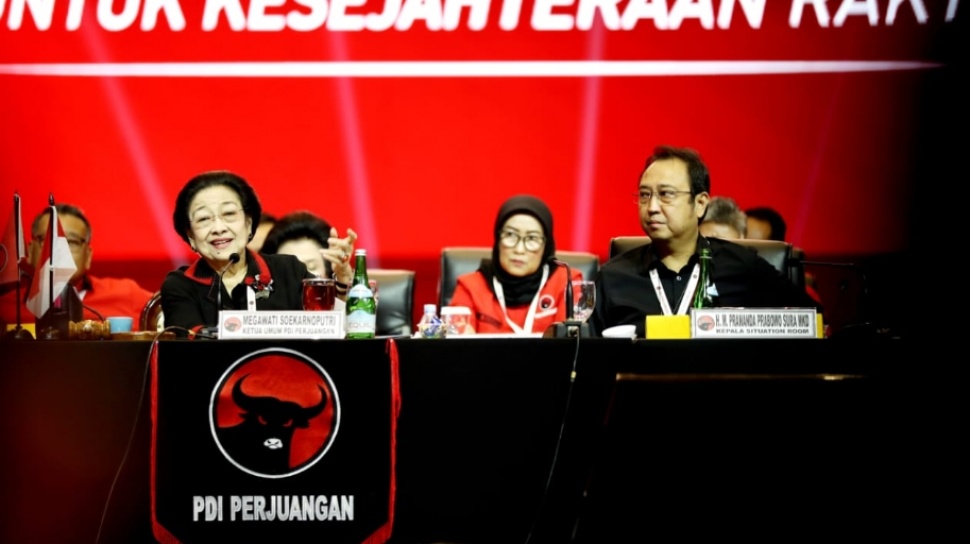 Suara.com – General Chairperson of the PDI Perjuangan (PDIP) DPP, Megawati Soekarnoputri, admitted that until now she is still surprised that there are people who think badly about referring to party officials as the President of the Republic of Indonesia, Joko Widodo or Jokowi. Because of that title, Megawati became the topic of conversation.
This was conveyed by Megawati in her speech before PDIP cadres at the closing of the IV PDIP National Working Meeting, Jiexpo Kemayoran, Newsdelivers.com, Sunday (1/10/2023).
Initially, Megawati reminded PDIP cadres not to forget to do their duties well. According to him, it must be clear when PDIP cadres are asked what their duties are.
"So politics is not just showing the face of mobilization. Imagine, I like looking at you, wow there are a lot of people. But I think, that's called mobilization. What is mobilization? Gather physically. If you are asked, who are you? I'm PDI "Struggle, what? What's your duty? That's clear," said Megawati.
Also read: Megawati and Prananda take photos with journalists on the third day of the IV PDIP National Working Meeting
Megawati then touched on the issue of party officials calling President Jokowi a problem.
"And I was confused, why did Mr Jokowi say I was a party official, a cadre, why did I say something too arrogant," he said.
In fact, he said, the matter of party officers was in accordance with the party's articles of association and bylaws (AD/ART). Megawati is also referred to as a party official.
"That is what is called AD/ART in our party. I am also a party officer, assigned by the party congress to be chosen by you (cadres) to be responsible as general chairman," he said again.
He also admitted that he was a party cadre, and moreover, he did not become general chairman suddenly.
Also read: Unseen on the last day of the PDIP IV Rakenas, where is Ganjar Pranowo?
"I'm also a cadre, it's impossible for someone else to suddenly become chairman," he said.
Megawati emphasized that not just anyone would suddenly become General Chair of the party. According to him, everything has rules.
"Because who wants to choose, if suddenly an outsider is chosen. And that violates the AD/ART," he added.