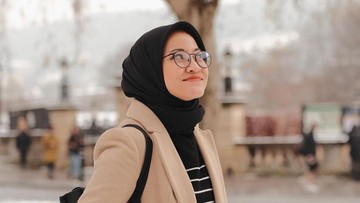 Newsdelivers.com –
Having a job abroad in a field that suits your abilities may be the dream of many people, just like what Niken Pratiwi Dwi Ritami is feeling. The woman who is familiarly called Niken is a graphic designer in London, England.
Through his TikTok account, Niken often shares short videos showing daily activities while living in London.
The video, which had a lot of viewers, apparently made Niken get various questions about how to get a job abroad, Mother.
ADVERTISEMENT
SCROLL TO CONTINUE WITH CONTENT
Responding to netizens' curiosity, Niken finally made a video telling the story of her success in getting a job in London. Previously, HaiBunda had obtained permission to quote.
"Hi, I'm Niken, I'm a graphic designer who works in London. "So, I applied for work through the AIESEC program called Global Talent, I applied from the website and there were lots of vacancies there from various countries," said Niken, quoted from the TikTok@nikeendr page, Thursday (28/9/2023).
Through this program, Niken found a company in London that was opening job vacancies according to her abilities.
This woman who graduated from Padjadjaran University finally had the courage to apply for a job at the company.
"After sending my CV and portfolio, a month later I was called for an interview, after the interview I was given a design test to work on," he said.
Unexpectedly, his courageous capital for applying for work abroad turned out to produce profitable results. Niken was successfully accepted into the company.
"Thank God, I passed the test and was called for the final interview, then not long after that I was informed that I had been accepted to work at their company in London, it felt like a dream when I read the email," said Niken.
Work experience in London, England
Previously, Niken had also uploaded a video expressing her feelings after being accepted and moving to London to work. He said that there were many benefits he got, Mother.
"If you hadn't had the courage to apply for a job and move to London, you would never have had the experience of having coworkers from all over the world, being the youngest employee in the office, meeting Tom Felton, working eight hours a day speaking full English, going to Harry filming locations. Potter," said Niken.
Not only that, Niken is also very grateful to have met many good people in the surrounding environment.
"My found family, when I first came here I didn't know anyone, and now I know a lot of people who are kind and really cool," he said.
Even though she had many good experiences while living in London, it turned out that it was not an easy thing for Niken. Look at the next page, OK, Mother.
For mothers who want to share about parenting and get lots of giveaways, come join the HaiBunda Squad community. Register click HERE. Free!
Also watch the video about the story of religious tolerance in the United States below, Mother.