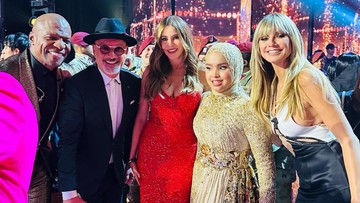 Newsdelivers.com –
Putri Ariani ended her struggle on America's Got Talent (AGT) 2023 and won 4th place in the talent search event. When it was declared that she had failed to become champion in this event, Putri was seen holding back tears.
His ambition to win is certainly very high. Moreover, his name is in the spotlight from all over the world and has received no less support.
Even so, Putri is still the pride of Indonesia. This 17 year old singer has been a source of pride for a long time, before his name became even more famous because he received the golden buzzer during the AGT 2023 audition from the judge, Simon Cowell.
ADVERTISEMENT
SCROLL TO CONTINUE WITH CONTENT
When Putri's defeat was announced, the audience and the judges, including Simon Cowell, didn't expect it. They couldn't believe that the votes Putri got failed to make her the winner.
Even so, Simon still considers Putri to be an extraordinary singer. As before, he again labeled Putri as a diamond.
"At the end of the day this is a competition, let me tell you, nothing can change the fact you are an incredible singer, you are a diamond," said Simon Cowell.
Putri's statement after winning 4th place
Some time after becoming 4th place, Putri para finally appeared with a new post. In the upload, he gave an optimistic and touching statement.
He said, taking part in a prestigious event in the United States and interacting with the judges was a valuable experience and journey and was the first step in his future life story.
"Thank God," he said.
"@agt @simoncowell @sofiavergara @terrycrews ,Heidiklum @howiemandel is an extraordinary journey. This is a new start for me," he continued.
Not to forget, Putri also thanked the judges. He hopes that in the future they will continue to support Putri's career.
"Thank you so much for your incredible support. Please continue to support me throughout my career. I love you all so much!!!" he closed.
Princess Ariani remains the pride of Indonesia.
Even though Putri did not come home with the winning trophy at the AGT 2023 event, she has succeeded in winning the hearts of the Indonesian people through her work and achievements so far, Mother.
This was also known directly from various comments from public figures and Indonesian netizens who encouraged Putri. Here are some of them:
"Incredibly proud of Princess!" said Najwa Shihab.
"You are our champion!" praised Rudy Salim.
"Congratulations Princess, Proud @arianinismaputri," said Elvi Sukaesih.
"Wow, congratulations, dear," said Dewi Persik.
"SO PROUD OF YOU! PRINCESS ARIANI," said @gog****.
"The 4th place winner is very proud," said @daiv****.
"No matter how many championships you want… @arianinismaputri's struggle to reach this point in @agt is really great. Superb!" continued @fhi****.
Continue reading on the next page, Mother.
For mothers who want to share about parenting and get lots of giveaways, come join the HaiBunda Squad community. Register click HERE. Free!