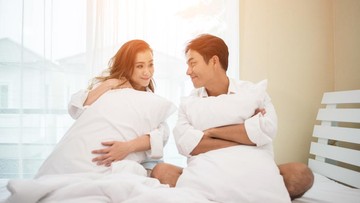 Newsdelivers.com –
Mothers who undergo the IVF (in vitro fertilization) IVF program certainly hope for success. So, if you succeed in getting pregnant through IVF, can you still have sex?
The Mayoclinic page writes that IVF is a complex procedure that can cause pregnancy. IVF is an effective fertility treatment that involves handling egg cells or embryos and sperm.
The chance of having a healthy baby through IVF depends on many factors, such as age and the cause of infertility. What's more, IVF is a time-consuming, expensive and invasive procedure. If more than one embryo is placed in the uterus, this can result in a pregnancy with more than one baby. This is called a multiple pregnancy.
ADVERTISEMENT
SCROLL TO CONTINUE WITH CONTENT
Sex during the IVF program
Is IVF safe? The Pregnancybabybirth page explains that IVF is a safe procedure and medical complications are rare. However, as with all medical procedures, there are some possible health impacts on the women and men undergoing treatment, as well as on children born as a result of the treatment.
The chance of giving birth to a healthy baby after undergoing IVF depends on various factors, including:
Maternal age. The younger you are, the greater the chance of getting pregnant and giving birth to a healthy baby using your own eggs during the IVF program. Often, people aged 40 years and over are advised to consider using donor eggs during IVF to increase the chances of success.
Embryo status. Transfer of more developed embryos is associated with higher pregnancy rates compared with less developed embryos. However, not all embryos survive the development process.
Reproductive history. People who have given birth before are more likely to get pregnant through IVF than people who have never given birth. Success rates are lower in people who have tried IVF several times but did not get pregnant.
Causes of infertility. Having an average egg supply increases a woman's chances of getting pregnant through IVF. People who suffer from severe endometriosis are less likely to get pregnant through IVF than those who experience unexplained infertility.
Lifestyle factors. Smoking can reduce the chances of IVF success. Often, people who smoke have fewer eggs retrieved during IVF and may miscarry more often. Obesity can also reduce the chances of getting pregnant and giving birth. Use of alcohol, drugs, too much caffeine and certain medications can also be dangerous.
Can pregnant women from IVF have sex? Find out the answer by clicking on the next page.
For mothers who want to share about parenting and get lots of giveaways, come join the HaiBunda Squad community. Register click HERE. Free!