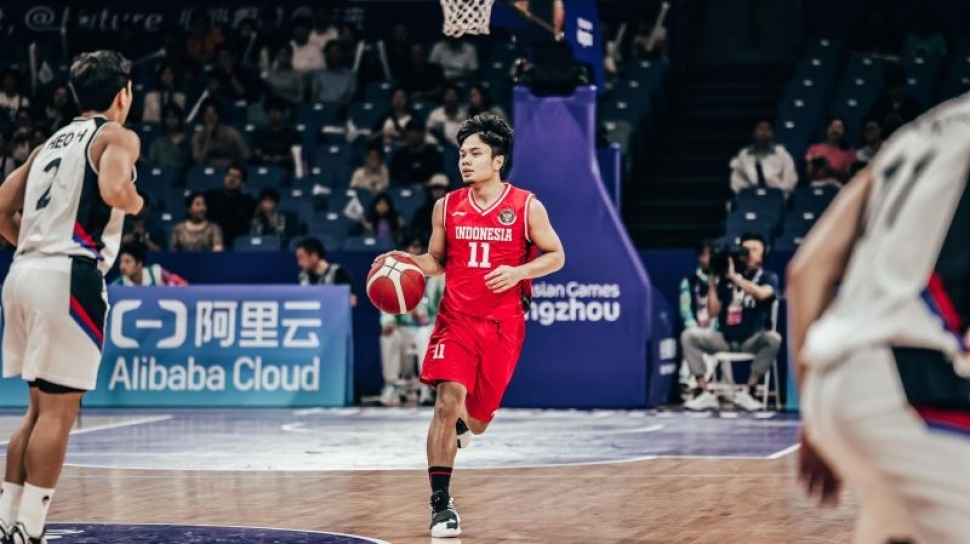 Suara.com – The Indonesian men's national basketball team lost 57-70 to the Japanese men's national basketball team in the second Group D match of the 2022 Hangzhou Asian Games basketball event, China, which took place at Zhejiang University Zijingang Gymnasium, Thursday (28/9/2023).
Indonesia had difficulty developing the game at the start of the first quarter after Keita Imamura's three-point shot and Raita Akaho's two-point shot gave Japan a 5-0 lead in the first quarter.
However, in the first half of the game, Indonesia was able to stick closely to Japan with Yudha Saputra's two-point shot, making the score 9-10. Japan then pulled away when Kazuki Hosokawa's three-point shot went into the ring smoothly.
The team from the Land of the Rising Sun continued to gain points and distanced themselves until they closed the first quarter with a 21-15 lead.
Also read: 2 countries that are potential opponents for the Indonesian U-24 national team if they qualify for the 2022 Asian Games pre-finals
In the second quarter, Indonesia performed better. The points scored by Widyanta Putra Teja, Kelvin Sanjaya, Kaleb Ramot Gemilang, and Vincent Rivaldi Kosasasih made the Red and White team close to Japan with a score of 25-27 and continued to equalize the score 27-27 when Yudha Saputra made a two-point shot.
Japan again pulled away 32-27, but Indonesia caught up again and equalized the score at 32-32 with two minutes remaining in the second quarter.
Unfortunately, in the remaining time Indonesia only scored two points and the Japanese team scored five points, thus closing the second quarter with a score of 34-38.
Indonesia, which is under the guidance of coach Milos Pejic, continued its good performance in the third quarter where the Red and White started the quarter with Vincent Rivaldi Kosasih's two-point shot and made the score 36-38.
Indonesia continued to gain points until they were ahead 42-41 with four minutes remaining.
Also Read: 2022 Asian Games Results: Ernando Ari's Goal is Battered, Indonesia U-24 vs Uzbekistan National Team Still Equally Strong in Round I
Japan then turned things around to 43-42, but Hendrick Xavi Yonga's two-point shot put Indonesia back ahead 44-43. Masato Ichikawa forced Indonesia to fall behind again when his three-point shot found the ring and made it 46-44 for Japan.