Food can play a key role in helping us maintain our mood. Several studies show a direct correlation between diet and mood disorders, and there are several things we can do to stabilize our mood. The science of how food affects our mood is based on how serotonin changes our brain chemistry.
Serotonin is a neurotransmitter that is important for many things, including the regulation of sleep, mood, and appetite. About 95 percent of our serotonin receptors are in the gut. So, what foods can help improve our mood? Come on, find out!
Omega-3 Fatty Acids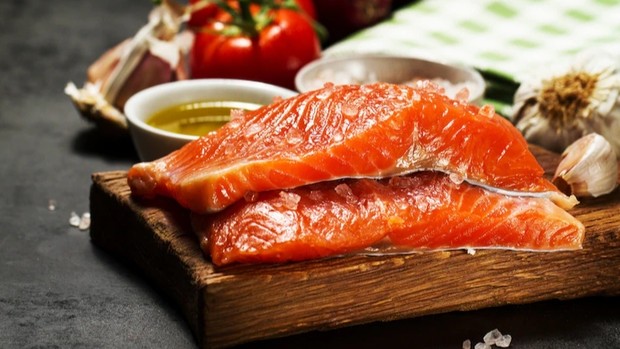 Salmon, source of omega-3/Photo: Freepik.com/Valeria_aksakova
Reporting from Huffpost, omega-3 fatty acids are a type of fat that the body cannot make. So, we have to get it through food. This fat makes up 20 percent of the brain's weight and is essential for many body functions, such as the brain, heart and immune system.
A review from the International Society for Nutritional Psychiatry Research looked at the effects of omega-3s on depression, where the analysis focused on individuals with major depressive disorder.
From this review, researchers consider omega-3 fatty acids to be important for the brain and overall health. You can get omega-3 fatty acids from fatty fish such as salmon, chia seeds, walnuts and flax seeds.
Probiotic Foods
/Photo: Freepik.com/jcom
There is a lot of evidence that gut health and mental health are interconnected. Our intestines have their own nervous system, called the enteric nervous system, which is connected to the central nervous system. One study suggests that probiotic foods may benefit brain function and mental health by improving gut health.
Probiotic foods contain live bacteria that help support health. Researchers found that people who consumed the most probiotic foods had significantly lower depression scores than those who consumed the least probiotic foods.
Some delicious foods that contain live probiotic bacteria include kefir, kimchi, kombucha, and yogurt.
Foods High in Antioxidants
Strawberries, a food high in antioxidants/Photo: Freepik.com/picturepartners
Free radicals are molecules in the body that are unstable. They can cause cell damage and contribute to disease by damaging DNA, proteins, and fatty tissue. This damage is called oxidative stress and antioxidants can stabilize these free radicals.
Some scientists suggest that antioxidants may benefit mental health by reducing inflammation and oxidative stress in the brain that can cause symptoms of depression.
A 2019 study involving 175 women who had gone through menopause showed lower depression and anxiety scores among participants on an antioxidant-rich diet. Foods high in antioxidants include strawberries, broccoli and cinnamon.
High Fiber Foods
Whole grains, high fiber foods/Photo: Freepik.com
Fiber plays a key role in gut health because it serves as food for good gut bacteria. Like probiotic foods, high-fiber foods can improve mental health by supporting a healthy gut microbiome. That's because when microbes absorb fiber, they make beneficial compounds that can affect the brain.
Research supports this with two meta-analyses providing evidence of an association between a high-fiber diet and a reduced risk of depression. They saw a 5 percent reduction in the risk of depression for every 5 gram increase in daily fiber intake. High-fiber foods include vegetables, fruit, whole grains, nuts, and herbs.
Foods High in Polyphenols
Dark chocolate, a food high in polyphenols/Photo: Freepik.com
Polyphenols are a superfamily of compounds in a variety of plant foods. They are very beneficial for our gut, skin, heart and brain health.
A 2020 randomized controlled trial found that people who followed a diet high in polyphenols for three months showed better symptoms of depression. Foods high in polyphenols include dark chocolate, olives and raspberries.
These are some foods that can improve our mood. While it may be tempting to reach for sugary foods when you're in a bad mood, having a healthy, balanced diet is likely to be better for your mental health in the long run.
***
Want to be one of the readers who can take part in various exciting events at Beautynesia? Come join the Beautynesia reader community, B-Nation. How to REGISTER HERE!
(sound/sound)