WASHINGTON, D.C —
"I can say that the victim's physical condition is good, but psychologically, this case has caused him mental disorders."
This is an excerpt from the statement of Pastor Yobelia Karmila Nova Bili, pastor of the Sumba Christian Church Synod, East Nusa Tenggara, who first accompanied Bunga (not her real name), a resident of Waimangura Village, West Weweha District, Southwest Sumba Regency, who earlier this month was kidnapped by accident. openly by a group of men to forcibly marry them. A video that went viral on social media showed Bunga being arrested while standing on the side of the road, then put into a pick-up truck. He screamed for help, but a number of people around him did not do anything. They seemed stunned and could only look sad.
One of the residents recorded the incident which later went viral. In the video recording, Bunga can be seen with a frightened face struggling helplessly, while a number of men who kidnapped her laughed happily at their success in dragging the girl.
Based on reports from local residents, a day later the security forces moved quickly to carry out a chase and succeeded in freeing Bunga. Pastor Yorbelia, who is also the PERUATI Sumba Coordinator for Southwest Sumba, together with a number of other women activists who have long been actively fighting for the elimination of the practice of captive marriage which abuses the use of culture as a shield, together accompanied him in the first days of his recovery.
Police Name Five People as Suspects, Including the Victim's Mother
Southwest Sumba Police Chief AKBP Sigit Harimbawan confirmed that four "kidnappers" namely JBT, MN, HT and VS had been arrested and named as suspects. They were charged under Article 238 of the Criminal Code, sub-Article 333 of the Criminal Code in conjunction with Article 55 Paragraph 1 of the Criminal Code and Article 10 of Law No. 12 of 2022 concerning Criminal Acts of Sexual Violence (TPKS).
Meanwhile, the fifth suspect, KT, who is the victim's mother, will be charged with a lighter article due to the request of a number of female activists. What is certain is that if found guilty, the five will be sentenced to nine years in prison.
Observer: The Beginning of the Tradition of Arrested Marriages Was Just for Arranged Marriage, Now It's Abused
Interviewed by telephone, women's activist and gender studies researcher at the University of Indonesia, Martha Hebi, admitted that arrest marriage was originally a tradition in Sumba, but at that time the whole process was open and good.
Martha Hebi, Sumbanese women's activist and gender studies researcher at the University of Indonesia. (Private photo)
"The practice of capture marriage is in the past. I got information directly from traditional elders. But in the past, the main goal was more about matchmaking. This is because in the past there were difficulties in communication and transportation, while parents wanted their daughters to find a safe and well-known mate, if possible from within their own family or someone they actually knew. "From the long communication process, there was a conspiracy, the parents of the boy and girl already knew each other, and the girl was taken by force, taken and married to someone who had also been introduced to her previously," he explained.
"In the social context of that time, this was considered nothing. But after we had excellent access to communication and transportation, there were policies to protect women and human rights, and CEDAW (Convention on the Elimination of All Forms of Discrimination Against Women) was ratified. "or the Convention on the Elimination of All Forms of Discrimination against Women), as well as anti-torture and inhumane treatment resolutions, and our various recent laws, the practice of captive marriage is no longer appropriate. In fact, it should be abandoned because it degrades the dignity of women," added Martha .
Reverend Aprissa Taranau, who is also an advisor to the All-Indonesian Fellowship of Theologically Educated Women for Sumba, said that for a long time she had refused to see arrest marriage as a mere tradition because in practice it was actually used to impose violence against women.
"Historically, this is part of tradition, but now I no longer want to be trapped by it because since writing my thesis in 2009 I see this captive marriage as forced marriage against women and layered violence," he explained.
The Urgency of Education and Socialization to Citizens
Aprissa further said that there must be education and socialization at the grassroots level that marriage capture is no longer like the initial tradition, but has become a crime against humanity.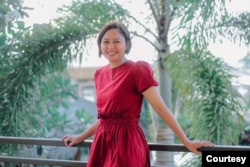 Reverend Aprissa Taranau, Advisor to the Fellowship of Theologically Educated Women throughout Indonesia for Sumba. (Private photo)
"Providing education like this not only in schools, but also in discussion forums and community meetings. As a pastor, for example, I not only use my pulpit to convey hope to God, but also to talk about women's rights and the need to treat women as equal subjects. We work together with the government, humanitarian organizations and citizens, we all have to work together because the struggle to eradicate captive marriage is still long. "We can't work alone, especially since there have been misconceptions about captive marriage for a very long time," continued Aprisa.
Martha Hebi believes that the simplest way to open people's eyes about captive marriage is to have heart-to-heart conversations at all levels.
"At the grassroots there are heart-to-heart discussions about this matter, because if you suddenly talk about the law then people will refuse because they think this is a tradition that must be maintained. But when we talk about the wounds experienced by women, physical and psychological, and how it takes a long time to heal the wounds that their sisters and daughters may experience, citizens can accept it. I once conveyed in this discussion how a woman I spoke to in the 1980s because she was a victim of a captive marriage, then I met her again in 2019, still spoke in a tone of pain, anger, disappointment. "Imagine, more than 30 years later, the wound is still open," added Martha.
Officials Asked to Proceed Case to Court
Pastor Yobelia, who has been accompanying Bunga, a woman in Southwest Sumba who was the victim of an arrested marriage earlier this month, said that his party continues to encourage the police to take this case to court.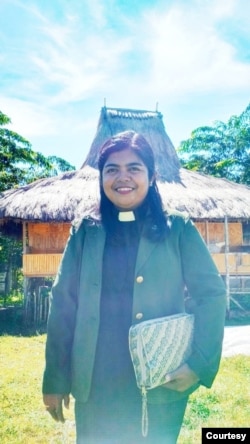 Pastor Yobelia Karmila Nova Bili, Pastor of the Synod of the Sumba Christian Church/Coordinator of the Fellowship of Theologically Educated Women throughout Indonesia for the Sumba Region. (Private photo)
"We, together with the local government and several humanitarian foundations, are fighting to continue to encourage the police to continue the legal process to court to prevent the same case from recurring. So far there have been five suspects, four men and one woman, namely the victim's mother. "He was made a suspect because from his own mouth he said that he was the one who pushed for his daughter's marriage," said Yobelia.
"So far the victim has had a post-mortem, no sexual violence or other bad things have been found, so the Southwest Sumba police are investigating this case under kidnapping considering that the victim was forcibly pulled and thrown into a pickup. But because the victim is already 20 years old, the perpetrator cannot be charged "with the article on violence against children. Even though he is 20 years old, he is still in class III of high school," he added.
National Commission on Violence Against Women Praises the Performance of the Southwest Sumba Police
Komnas Perempuan praised the police's move to use the Sexual Violence Crime Law, especially article 10, as "a step forward in handling cases of arrested marriages." Together with several other articles in the Criminal Code, victims are expected to receive adequate protection, as well as assistance and recovery.
However, Komnas Perempuan specifically asked the police to "apply sensitivity to the special vulnerabilities of women in investigating cases of women in conflict with the law" when investigating KT, the victim's mother. This includes considering the "burdens and worries" faced by a mother as a single parent, as well as the social construction and conditions that enable a mother to take certain steps which she believes are aimed at saving her child and family. "With this application, apart from breaking impunity, the legal process will also become more humane and fair," added Komnas Perempuan. (em/hour)