Suara.com – Vietnam's failure at the 2022 Asian Games apparently leaves big questions about coach Hoang Anh Tuan's decision to not even field captain Do Sy Huy.
Do Sy Huy is the captain of the Vietnam U-24 National Team at the 2022 Asian Games. The appointment of the 25 year old player as Hoang Anh Tuan's absolute choice as captain.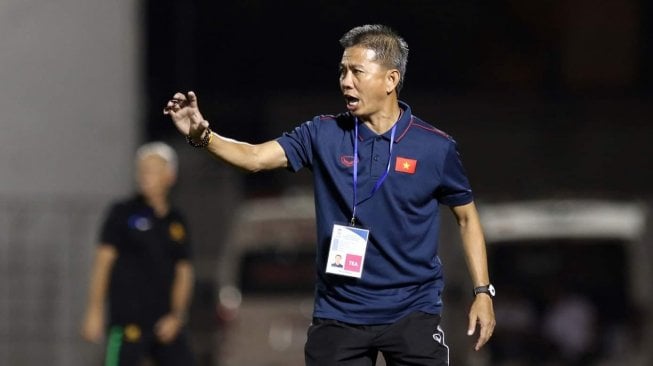 Vietnam U-18 national team coach, Hoang Anh Tuan. (Doc. Vocketfc).
However, in the three matches that Vietnam played in Group B, Do Sy Huy only served as a bench heater.
As reported by Vietnamese media, Soha vn, Tuesday (26/9/2023), Vietnam only brought in one player above the age limit set for the event to Hangzhou, namely goalkeeper Do Sy Huy (born in 1998).
Also Read: Just Underdogs Against Uzbekistan, Indonesian U-24 National Team Wonderkid Promises a Surprise
However, throughout the three matches, this goalkeeper was not allowed to play a single minute. Instead, the main starter of all three matches was goalkeeper Quan Van Chuan.
This makes the public wonder about how coach Hoang Anh Tuan selected personnel. And recently, this strategist had to speak up to explain the Do Sy Huy case.
Hoang Anh Tuan said that when the preliminary list was submitted to the 2023 Asiad organizing committee four months ago, Quan Van Chuan did not have the opportunity to play at the Hanoi Club. Therefore, he chose goalkeeper Do Sy Huy, who at that time was a starter at CAHN Club (2 matches).
But after that, everything changed drastically when CAHN Club brought in Filip Nguyen, and Do Sy Huy lost his position and was not allowed to play in any more matches.
It is worth mentioning, after the 2023 V.League, the Vietnam League, ended on August 27, Do Sy Huy was allowed to rest by the club and did not train for a day. Before leaving for Hangzhou, this goalkeeper only underwent 2 training sessions with Vietnam U23 in Hanoi and 1 training session in China.
Also read: Weaknesses of Indra Sjafri's Indonesian National Team at the 2022 Asian Games, what are they?
Most importantly, when talking with coach Hoang Anh Tuan, Do Sy Huy himself was not ready to play even though he had not played for the last 4 months. In the end, Quan Van Chuan was the name chosen.
Vietnam itself was eliminated in the group phase of the 2022 Asian Games. Finishing in third place in Group B, Vietnam failed to advance to the last 16 through the best third place route.
The Golden Star Warriors are also listed as the only Southeast Asian country that failed to reach the last 16 of the 2022 Asian Games.