Sandiaga Uno looked happy and emotional when he married his eldest daughter, Anneesha Atheera Uno to Panji Bagas Dwiprakoso on Saturday (23/9). Taking place at the Al Hikmah Mosque, Queens, New York, the marriage ceremony procession was witnessed by the Indonesian Ambassador to the United States, Rosan Roeslani and the former head of PT Asuransi Ramayana Tbk, Ananto Harjokusumo.
Acting as the officiant of the wedding was Ustad Imam Shamsi Ali. Meanwhile, Abu Fida delivered the wedding sermon. The wedding took place privately, attended by a number of family and close relatives.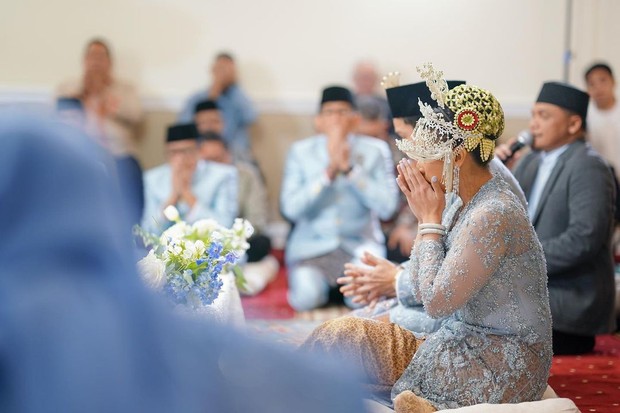 Atheera's Wedding, Princess Sandiaga Uno/ Photo: instagram.com/sandiuno
At this sacred moment, Atheera was seen wearing a blue kebaya. Check out the details and also take a peek at Atheera's wedding dress below.
Betawi Traditional Kebaya Shades of Blue
Atheera wedding kebaya/ Photo: Instagram.com/sandiuno
Even though it was held in New York, United States, Atheera and Panji's wedding was still steeped in Indonesian cultural nuances. Atheera and her family looked harmonious wearing traditional clothing at the wedding ceremony session.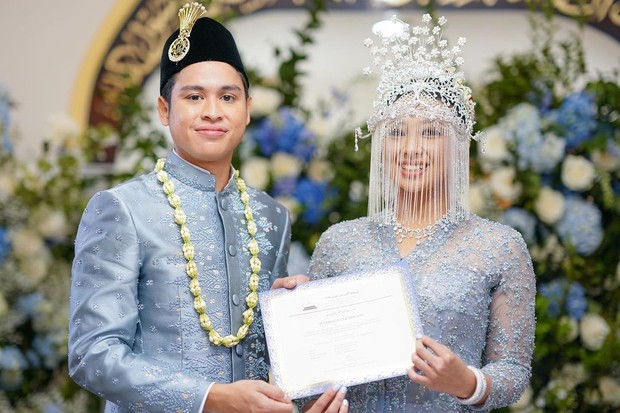 Atheera and Panji/ Photo: instagram.com/sandiuno
Atheera chose a traditional Betawi kebaya which is characterized by a sengko crown covered with a beaded curtain. This wedding kebaya is a modern style using brocade fabric with a long, body-fitting silhouette and tapered at the ends. The design is simple with a V-neck and transparent lace accents.
The kebaya is combined with batik cloth with blue glitter details with a motif similar to Riau Malay songket. Atheera does have Malay blood from her father, while she got Betawi blood from her mother, Nur Asia Uno.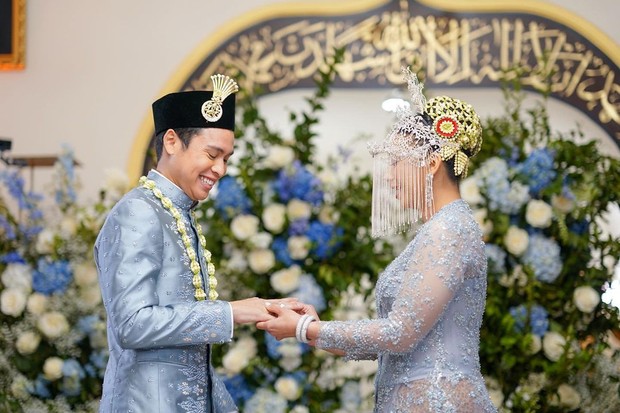 Atheera's Wedding, Princess Sandiaga Uno/ Photo: instagram.com/sandiuno
Her hair was tied in a bun with jasmine ronce decoration. Then the look is completed with a diamond necklace and solid bangle bracelet.
In line with Atheera, Panji wore a light blue, shaded jacket decorated with embroidery. Not to forget, batik cloth is used to line trousers. There is an impression of Malay gentry which is shown through the gold decoration on the songkok.
Classic Wedding Dress
Atheera's Wedding, Princess Sandiaga Uno/ Photo: instagram.com/litazen
Moving on to the reception, Atheera wore a modern and classic white wedding dress. The appearance is enhanced with a diamond crown. Meanwhile, Panji wore a double breasted suit in gray shades.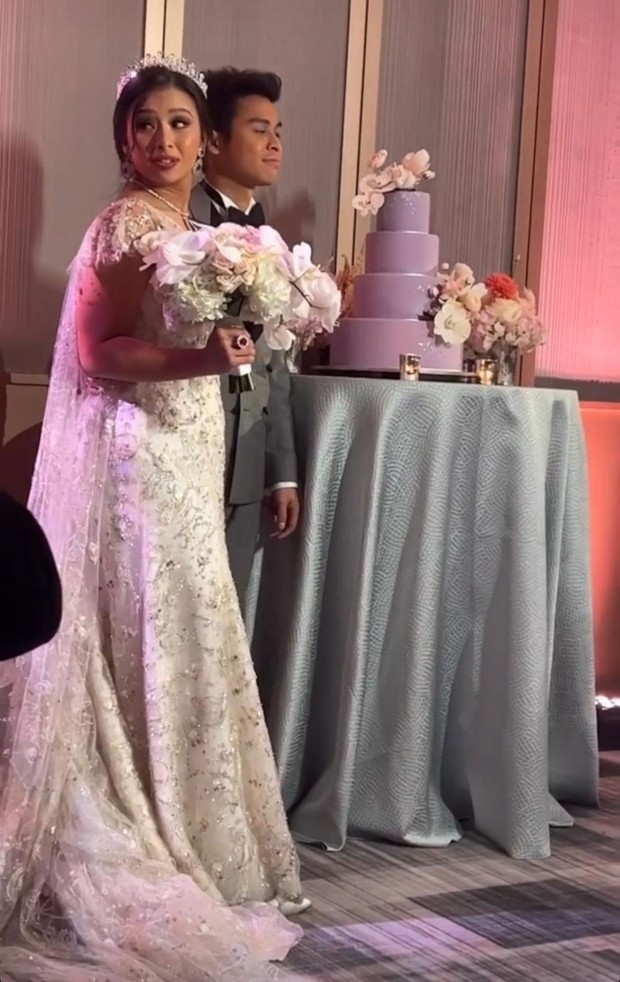 Atheera and Panji/ Photo: instagram.com/2gek_ayuhenirosan
Atheera's wedding dress was decorated with golden sequins. There are cape and long train details that add elegance. This dress is also seductive with a deep V back accent.
Don't forget, congratulations to Atheera and Panji!
***
Want to be one of the readers who can take part in various exciting events at Beautynesia? Come on, join the Beautynesia reader community, B-Nation. How to REGISTER HERE!
(dmh/dmh)