European businesses in China are increasingly questioning their position in the country as they face tougher new security laws as well as a politicization of trade, an EU commissioner warned from Beijing on Monday. of.
"European companies are concerned with the direction China has taken," EU Trade Commissioner Valdis Dombrovskis said during a speech at Tsinghua University in the Chinese capital.
"Many of them are questioning their positions in this country."
He cited a new foreign relations law and a recent update to China's anti-espionage laws and said they are of "great concern to our business community."
"Their vagueness allows too much room for interpretation," he warned.
"This means that European companies find it difficult to understand their compliance obligations: a factor that significantly lowers business confidence and discourages future investment in China," Mr Dombrovskis said.
The EU's trade commissioner is on a several-day visit to the country with the world's second-largest economy, where he is expected to meet with top economic officials and reinforce the message that the EU is not seeking to disengage from the Chinese economy. .
His visit comes after a report from the European Union's Chamber of Commerce showed last week that business confidence had fallen to its lowest levels in decades.
"For several decades, European companies thrived in China," said the president of this chamber of commerce, Jens Eskelund.
But after three "tumultuous" years, he said, "many of them have re-examined what they took for granted about the Chinese market."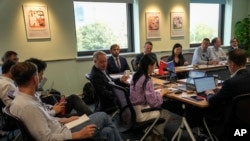 Jens Eskelund, speaking to reporters (September 20, 2023)
It comes as trade tensions between the EU and China have increased, following Brussels' decision to launch an investigation into Beijing's subsidies for electric cars.
Depending on the outcome of that investigation, the EU could try to protect European carmakers by imposing punitive tariffs on cars it believes are unfairly underpriced.
The day after the announcement, China's Ministry of Commerce criticized what it called "blatant protectionism" and said the measures "will have a negative impact on China-EU economic and trade relations".
Speaking in Beijing on Monday, Commissioner Dombrovskis insisted that China remains an attractive investment opportunity for European businesses.
"The EU and China benefited enormously from opening up to the world," he said. "Cross-border trade and cooperation helped create our economic and geopolitical power."
But, the European commissioner added, growing challenges for businesses risk turning "what many saw as a win-win relationship over the past decades into a win-win dynamic in the coming years."
The war in Ukraine
China's refusal to condemn Russia's war in Ukraine also poses a "reputational risk", he said.
This positioning of Beijing "is affecting the country's image, not only among European consumers, but also businesses," he said.
China has tried to position itself as a neutral party in the conflict in Ukraine, while diplomatically and financially aiding Moscow, whose international isolation is deepening.
Russian leader Vladimir Putin is expected to visit China next month.
"China always supports the position that every country should be free to choose its own development path. So it is very difficult for us to understand China's position on Russia's war in Ukraine, a war that violates the very basic principles of China." , said Commissioner Dombrovskis.