Newsdelivers.com –
A series of breastfeeding problems are always present during breastfeeding. The presence of a lactation doctor is one of the health professionals who can help. Let's find out recommendations for lactation clinics and doctors in Bandung, Mother.
A lactation consultant is a health professional who specializes in the field of breastfeeding (breastfeeding). Lactation consultants undergo special training and certification to provide support, advice and guidance to people who choose to breastfeed. A lactation consultant can help with nipple pain, milk supply, breastfeeding positions, and other common breastfeeding issues.
7 Recommended lactation clinics and doctors in Bandung
A lactation consultant is usually needed during the first few weeks of a baby's life while they are still learning how to breastfeed. Lactation consultants can help anyone, including first-time mothers, surrogate mothers, or parents who have already breastfed several children.
ADVERTISEMENT
SCROLL TO RESUME CONTENT
You can visit a lactation consultant while you are still pregnant, immediately after giving birth, or a few months after breastfeeding.
Usually, lactation consultants will help breast-feeders who are experiencing problems in detail and help your mother's breastfeeding process run smoothly without any problems.
Apart from that, some reasons why breast-feeders may need to make an appointment with a Lactation Consultant is because they have breastfeeding problems that make them uncomfortable, Mother.
These include breast swelling, blocked ducts such as mastitis, sore or sore nipples, concerns about milk supply, latching problems, baby not gaining weight, baby refusing to breastfeed, pumping when returning to work, and so on.
Oh yes, Mother, in various regions, including in Bandung, West Java, the presence of lactation consultants has mushroomed. So, mothers can easily find a competent lactation clinic or doctor to help with all breastfeeding problems.
For mothers who live in Bandung, a row of clinics and lactation doctors are also easy to find. Here are the recommendations:
1. RSIKA Harapan Bunda Lactation Clinic Bandung
At this clinic there are several practicing doctors who can help mothers overcome breastfeeding problems and also prepare before giving birth so that mothers are ready for the challenges of breastfeeding when giving birth. Mothers can come directly to RSKIA Harapan Bunda Bandung which is on Jalan Pluto Raya Block C, Margahayu Raya, Bandung.
2. Dr. Stella Tinia Hasianna, M.Kes, IBCLC
Doctor Stella is quite popular on social media networks as a Lactation Counselor, Mother. Mothers can consult on various breastfeeding problems with him who practices at Limijati Hospital. Doctor Stella can also be visited on the Instagram page with the account @stellatiniaibclc
3. Hermina Pasteur Hospital Lactation Clinic
For mothers who feel confused and have problems regarding breastfeeding, mothers can consult at the Hermina Pasteur Hospital lactation clinic with a doctor's schedule that can be found almost every day, Mother. The address is Jalan Dr. Djundjunan No. 107 Bandung.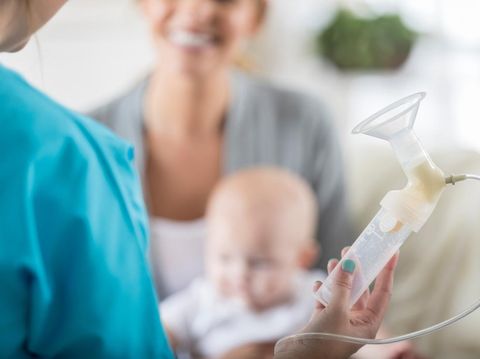 Illustration of a lactation counselor/ Photo: Getty Images/SDI Productions
4. Lactation Clinic RSU Pindad
Pindad Hospital is here to provide services to meet the needs of breastfeeding mothers. For expectant mothers, lactation clinics can also be useful as they can help understand the correct way to breastfeed. At this clinic, mothers will also be invited to share experiences with other mothers regarding breastfeeding so that they can increase their knowledge in providing breast milk for their children. The address is Jl. Gatot Subroto No. 517, Sukapura, Kec. Kiaracondong, Bandung City.
5. Lactation Clinic RSIA Limijati Bandung
Bandung residents can go to RSIA Limijati to get lactation clinic services. At this hospital, mothers can get lactation services from doctors who are IBCLC certified. RSIA Limijati is located at Jalan LLRE Martadinata St No 39, Citarum, Bandung Wetan, Bandung.
6. dr Frecillia Regina, SpA, IBCLC
Apart from being a pediatrician, Dr Frecillia also acts as a Babywearing Consultant. Dr. Frecillia, who practices at Limijati Hospital, actively shares various breastfeeding tips on her Instagram page with the account @frecillia
7. Edelweiss Hospital Lactation Clinic
This hospital provides lactation services which are a service center for issues related to breastfeeding mothers, baby care and healthy nutrition for children according to their age stages. Edelweiss Hospital provides lactation services with specialist doctors in their field who are trained and have certified competence. The address is Jl. Soekarno Hatta No. 550, Sekejati, Kec. Buahbatu, Bandung City.
Those are some recommendations for lactation clinics and doctors in Bandung, Mother. Hopefully the information helps, Mother. Stay passionate about breastfeeding and immediately contact a lactation doctor when breastfeeding problems arise.
For mothers who want to share about parenting and get lots of giveaways, come join the HaiBunda Squad community. Register click HERE. Free!
(pri/pri)