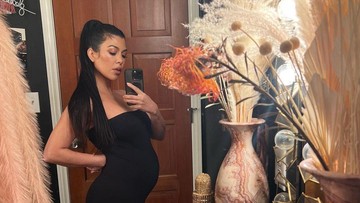 Newsdelivers.com –
Model and fashion designer, Kourtney Kadarshian recently announced the news that she had to undergo emergency surgery. This operation was carried out to save the life of her fourth child who was still in the womb.
The procedure Kourtney underwent is known as fetal surgery. This term still sounds foreign. To find out more about fetal surgery, read this article to the end, Mother.
Get to know fetal surgery
Fetal surgery can simply be said to be a procedure performed on a fetus that is still in the womb. This procedure is usually performed if there are indications of problems with the baby or placenta.
ADVERTISEMENT
SCROLL TO RESUME CONTENT
Fetal surgery is usually chosen if the condition of the fetus and placenta can still be maintained. The aim of this operation is to save the baby in the womb without having to make it born prematurely.
"To improve pregnancy outcomes because there is something pathological or worrying happening to the pregnancy, baby, or placenta," says Dr. Nicholas Behrendt, specialist in maternal fetal medicine at Children's Hospital Colorado, reported by Romper.
Conditions that require fetal surgery to be performed
There are several conditions that require mothers to undergo fetal surgery procedures for the safety of their little ones in the womb.
Anemia in the fetus causes a decrease in hemoglobin levels in the blood. This condition can of course endanger the safety of the fetus. If this happens, the doctor will usually take fetal surgery so that the fetus can survive in the womb until birth.
Unequal nutrition in twins
In twins, one fetus usually gets less food while it is still in the womb. This is usually because the placenta is too attached, so that the distribution of food is uneven.
When this condition occurs the doctor will take non-invasive fetal surgery. The method is to use laser technology which can separate the placenta without damaging the surrounding tissue and organs.
Spina bifida is a condition where a baby's spinal cord fails to develop. This condition can be known since the fetus is still in the womb using 4-dimensional ultrasound technology.
If your little one experiences this and it has been known since he was in the womb, a fetal surgery procedure could be the right solution. This is because surgery via a fetal surgery procedure is believed to produce better results, compared to if it is carried out after the baby is born.
Fluid buildup is also one of the conditions that causes fetal surgery to be carried out immediately. Usually fluid will accumulate in the chest cavity and can inhibit lung growth if not treated properly. Therefore, a fetal surgery procedure is the best solution in this case.
Mothers must be wondering how the fetal surgery procedure is carried out? To find out, let's look at the next page.
For mothers who want to share about parenting and get lots of giveaways, come join the HaiBunda Squad community. Register click HERE. Free!