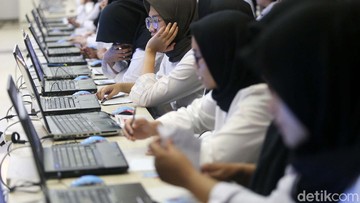 Newsdelivers.com, Insertlive –
The State Intelligence Agency or BIN is one of the government agencies that will open the 2023 CPNS selection. BIN not only provides opportunities for undergraduate graduates, but also for high school and vocational school graduates.
There are dozens of job vacancies in the 2021 BIN CPNS formation which are intended for high school graduates and equivalent.
The 2023 BIN CPNS formation will soon be announced between 16 and 30 September on the official BIN website.
Furthermore, registration for the 2023 BIN CPNS selection will open on September 17 on the registration page-sscasc.bkn.go.id.
The following is the link to the 2023 BIN CPNS selection list and how to register:
Registration and uploading of required documents is done online via the page https://register-sscasn.bkn.go.id/login by using the applicant's Population Identification Number (NIK) on the Resident Identity Card (KTP) or on the Family Card (KK) and NIK Head of Family or applicant's NIK and KK Number. Applicants can only register at 1 (one) agency with a choice of 1 (one) formation. Applicants can choose the location for the Basic Competency Selection (SKD) exam with 1 (one) choice of location from 14 (fourteen) location points determined by the Selection Committee. Applicants who are declared to have passed the Administrative Selection will be announced via the page https://www.bin.go.id. Applicants who are declared to have passed the administrative selection can print their exam participant cards online via the page https://register-sscasn.bkn.go. id/login. (Zalsabila Natasya/agn)
Also watch the following video: