Newsdelivers.com –
Pregnant women are sometimes curious because the fetus's face cannot be seen during ultrasonography (USG). Why does the fetus cover its face during an ultrasound? Find out why the fetus is not visible and how to overcome it, Mother.
Ultrasound is actually a prenatal test offered to pregnant women. Ultrasound uses sound waves to display images of the fetus in the uterus. This ultrasound helps doctors check the health and development of your baby.
Why does the fetus like to cover its face during ultrasound?
According to the Marchfodimes page, ultrasound is usually a special part of pregnancy. Father and mother can see the baby for the first time even though it is still in the womb. However, seeing the fetus also depends on when and the position of the baby.
ADVERTISEMENT
SCROLL TO RESUME CONTENT
Most pregnant women have an ultrasound in the second trimester at 18 to 20 weeks of gestation. Some pregnant women also undergo an ultrasound in the first trimester (also called an early ultrasound) before 14 weeks of pregnancy.
The number and timing of ultrasounds may differ for women with certain health conditions such as asthma and obesity.
Types of ultrasound
There are different types of ultrasound, all of which use a device called a transducer. The tool uses sound waves to create an image of a baby on a computer. The most common types of ultrasound are:
1. USG transabdominal
This ultrasound is used during pregnancy. Mother just lies on her back on the examination table, and the doctor applies a thin layer of gel. The gel helps sound waves travel more easily so doctors get better images.
Then the doctor moves the transducer across the stomach. Pregnant women may need to drink several glasses of water about 2 hours before the test so that the bladder is fully filled during the test.
A full bladder helps sound waves travel more easily for better images. Ultrasounds are painless, but a full bladder may cause discomfort. The ultrasound takes about 20 minutes.
2. USG transvaginal
This type of ultrasound is done through the vagina (birth canal). The pregnant woman lies on her back on the exam table with her legs extended. The doctor inserts a stick-shaped transducer into the vagina. You may feel pressure from the transducer, but it doesn't cause pain. The bladder should be empty or partially filled. This type of ultrasound also takes about 20 minutes.
3. USG Doppler
This type of ultrasound is used to check the baby's blood flow if he is not growing normally. The doctor uses a transducer to listen to the baby's heartbeat and measure blood flow in the umbilical cord and in some of the baby's blood vessels.
You may also get a Doppler ultrasound if you have Rh disease. This is a blood condition that can cause serious problems in the baby if left untreated. Doppler ultrasound is usually used in the last trimester, but can also be done earlier.
4. USG 3D
3-D ultrasound takes thousands of images at once. It produces 3-D images that are almost as clear as photographs. Some hospitals use this type of ultrasound to ensure the baby's organs are growing and developing normally. You can also check for abnormalities on the baby's face.
5. USG 4D
This is like a 3D ultrasound, but also shows the baby's movements in a video.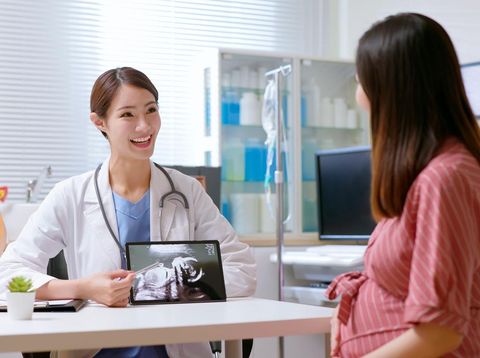 Foto: Getty Images/PonyWang
Cause the fetus is not visible on ultrasound
James Greenberg, a certified general obstetrician/gynecologist, said that pregnant women might imagine that they can see a sharp nose, plump cheeks, or a smile from the fetus during an ultrasound. However, the reality is that most ultrasounds performed between weeks 18 and 22, even 3D ultrasounds, do not provide such results.
"So, if you are a prospective parent who is shocked by the image you see on the screen, know first that you are not alone," said Greenberg, quoted by WhattoExpect.
According to him, many parents have posted online about seeing strange or just plain scary faces on anatomy scans. And secondly, some normal reasons can explain why the sonogram changed the way it did. Or when the baby's ultrasound covers his face.
When you do a 3D ultrasound, you definitely expect a more realistic image, showing facial features, not just a two-dimensional view. However, it still relies on sound waves to stitch together an image – which isn't always perfect. In other words, ultrasound does not always read accurately on some surfaces.
"It's not like the camera on your phone. So, while 3D ultrasound can serve as a useful diagnostic tool in some scenarios, you could potentially find the strange faces you see related to how the technology works," explains Greenberg.
How does a baby cover their face during an ultrasound? The baby may move quite a lot in the womb as it grows. Pregnant women may feel kicking or swaying, or the baby is spinning.
Greenberg says that if the baby is facing away from the stomach during the ultrasound, the sound waves may only show two-thirds or half of the face, which may look a little strange.
Likewise, when a baby covers his face with another part of his body. This is similar to what happens if the face is turned away. It is possible that part of the face is covered by arms or other body parts so it looks strange.
If you're worried because you can't see his face or his face looks scary, Greenberg says there's no need to worry. To overcome this, pregnant women can immediately ask questions and convey any concerns to the doctor during an ultrasound.
For mothers who want to share about parenting and get lots of giveaways, come join the HaiBunda Squad community. Register click HERE. Free!
(pri/pri)