Newsdelivers.com, Insertlive –
Netflix has finally announced the broadcast schedule for the series Berlin, which is a spin-off from Money Heist (La Casa de Papel).
The series tells the story of one of the main characters of the extraordinary heist story played by Pedro Alonso, who returns as the hedonistic and cunning Berliner.
Apart from the character Berlin, there is also the character Michelle Jenner as Keila, someone who is skilled in electronic engineering; Tristán Ulloa plays Damián, a philanthropy professor and Berlin confidant; Begoña Vargas plays the character Cameron, a brave man whose life is always full of tension.
ADVERTISEMENT
TAKE THE QUIZ
SCROLL TO RESUME CONTENT
Julio Peña Fernández stars as Roi, Berlin's loyal bodyguard; and Joel Sánchez as Bruce, the member of the group who never stops acting. Itziar Ituño and Najwa Nimri return in their roles as policewomen Raquel Murillo and Alicia Sierra.
Meanwhile, Samantha Siqueiros, Julien Paschal, Masi Rodríguez and Rachel Lascar will complete the other characters starring in Berlin.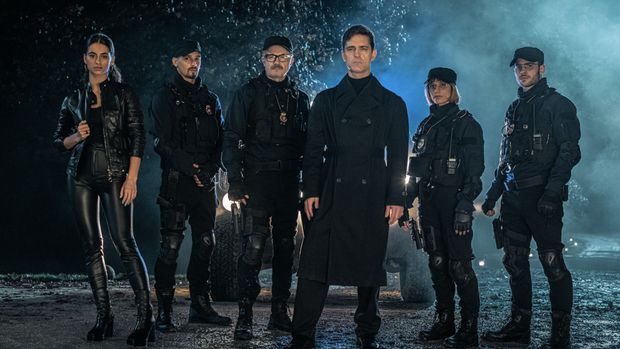 BLUE MONKEYS (L to R) PEDRO ALONSO as BERLíN in episode 02 of BLUE MONKEYS. Cr. TAMARA ARRANZ/NETFLIX © 2023/ Photo: TAMARA ARRANZ/NETFLIX/TAMARA ARRANZ/NETFLIX
The new trailer released on Tuesday (19/9) shows the dapper Berliner committing crimes in the French capital in between drinking champagne, love affairs and lavish parties.
However, this lifestyle comes at a cost and Berlin must seek out the thrill of large and dangerous heists in order to continue the pursuit of pleasure.
The Berlin series will premiere on December 29, 2023 on Netflix.
(he/him)
Also watch the following video: