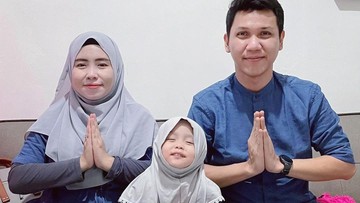 Newsdelivers.com –
Shabira Alula Adnan or Lala, who is known for her intelligence, is known to be sick. However, the illness that Lala is suffering from is apparently not an ordinary illness, Mother.
This was also mentioned by his father, Adnan Fahmi, in one of his contents. On this occasion, he suspected that the princess's condition arose due to supernatural causes.
The father said that Lala often had fevers and shivered every night. However, this condition only appears after sunset until dawn before the sun rises.
ADVERTISEMENT
SCROLL TO RESUME CONTENT
Recently, Lala's father was invited by YouTuber Denny Sumargo to tell a story on his podcast. Not only that, he also invited Ustaz Muhammad Faizar Hidayatullah.
Lala's condition and the strange things that happen
Lala's father started the conversation by telling about his daughter's condition. He revealed that the princess initially experienced symptoms such as inflammation. However, this condition lasted a very long time and strangely, only happened at night.
"Lala's lungs hurt, so Lala always covers her ears because it seems like there is a sound. Inside Lala's house it's like hearing the sound of a saw," he said, quoted from Denny Sumargo's CURHAT BANG YouTube channel, Friday (15/9/2023).
"Usually it starts after sunset, like that after sunset. But in the morning, it heals," continued the father.
Before this incident began, several of their closest family members had nightmares. In the subconscious, they see Lala's family experiencing bad things. Then unpleasant things began to be felt.
One time in the middle of the night, Lala's mother heard what sounded like an explosion above her house. He then asked his husband to check directly upstairs. However, when checked, the above conditions were fine. But what was strange, there he heard a sound like someone was sawing or sweeping
"Long story short, every night always at 1 to 3 o'clock, the house made a sound of sawing or sweeping on the ceiling. At first my wife heard the sound of an explosion from above, so she checked but nothing was destroyed," he said.
Adnan still thought positively, he thought that the sound came from the 'house keeper'. But the incident continued, so he suspected there was something supernatural going on and called the Koran teacher.
"Still positive thinking, maybe a normal voice, house keeper. But it always continued like that at the same time, like 1 to 3 o'clock. I tried calling the Koran teacher, it turned out there was indeed a delivery," he explained.
This suspicion became stronger because after the Koran teacher was brought in, Adnan's family discovered more and more strange things. They admitted that they often found maggots at home which smelled bad.
"Okay, finally, my Koran teacher said, this is really a 'sent'," he said.
"The proof is that there was someone who asked for a photo of his wife. That was someone close to him. When I tried to recite the Koran at home, the person who was reciting the Koran and I had an image of the face of someone who was the same."
For mothers who want to share about parenting and get lots of giveaways, come join the HaiBunda Squad community. Register click HERE. Free!