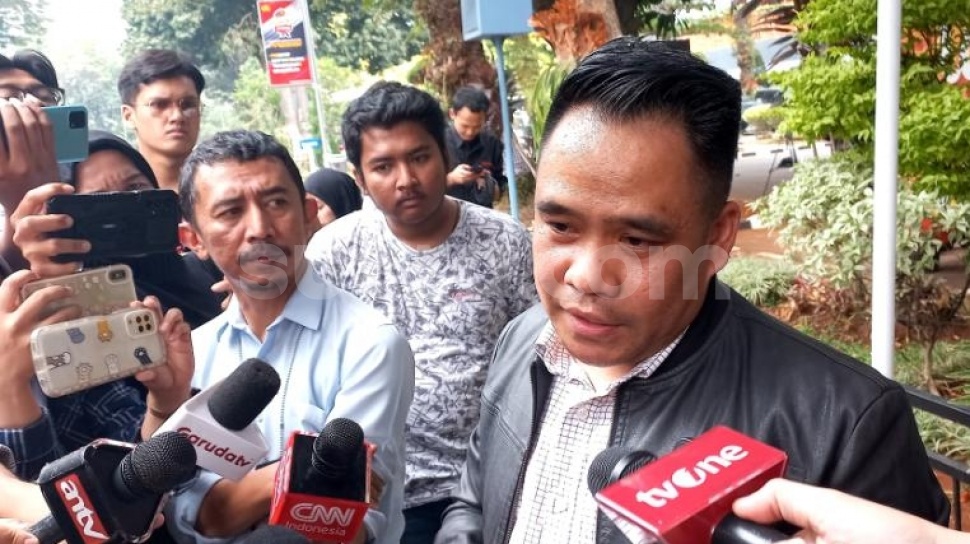 Suara.com – The FTV artist who was questioned by investigators from the Cyber ​​Sub-Directorate of the Special Criminal Investigation Directorate (Ditreskrimsus) Polda Metro Jaya regarding the pornographic film production case turned out to be Chaca Novita alias CN.
Chaca's lawyer, Acong Latif, said that investigators had carried out a urine test on his client. A urine test is carried out to ensure that the person concerned is not under the influence of drugs or narcotics.
"Urine tests are of course one of them who are afraid to use them, afraid that they will be affected by all kinds of drugs. Of course urine tests are there, in addition to health tests," said Acong at Polda Metro Jaya, Newsdelivers.com, Tuesday (19/9/2023).
The examination, said Acong, will continue after Chaca after resting, eating and praying. So far, according to him, only around 20 questions have been asked by investigators of his client.
Also read: Director Irwansyah turns out to have attracted an FTV artist to star in 2 pornographic films, lawyer claims CN is just a victim: there was coercion
"He was also ordered to take meal breaks, prayer breaks and all kinds of things. Maybe in the next 30 minutes he will continue the examination," he said.
Claim to Be a Victim
Acong had claimed that Chaca was the victim in this case. Because before he fell, his client had refused to play in a film directed by director Irwansyah.
"So someone invited him to be an actor in one of the films they were producing, even though he actually refused at first. There was coercion, meaning he was invited, then he refused," said Acong.
Based on Acong's confession, Chaca played a role in two films produced by Irwansyah. However, he did not reveal the titles of the two films.
Also read: Including Siskaeee, the police again summoned 16 artists in the porn film production case today
"CN has two films. He is a celebrity, but he has also played in an FTV," he said.
Apart from Chaca, two other pornographic film actors who attended the investigators' summons were Virly Virginia and Fatra Ardianata. Virly and Fatra are actors in the film entitled Kramat Tunggak which was directed by the suspect Irwansyah.
Meanwhile, Siskaeee, who also starred in the film Kramat Tunggak, was not present to answer the investigator's summons. Via his Instagram account @vip_siskaeeenya3, he said he couldn't attend because he was working in Cambodia.
"I confirm that I will come to Polda Metro Jaya on September 25, Monday at 10 am," said Siskaeee.
Virly, Fatra, Chaca, Siskaeee and 12 models and Instagram celebrities are scheduled to be questioned regarding the pornographic film production case in South Newsdelivers.com today. Apart from them, another artist who is also scheduled to be questioned is Anisa Tasya Amelia alias Meli 3gp.
Dirreskrimsus Polda Metro Jaya Kombes Pol Ade Safri Simanjuntak said today's examination was the second summons. On Friday (15/9/2023) the 16 actors were summoned but all of them did not show up.
"For the second summons when it has been received and does not come without a clear and valid reason, then we will issue a summons," said Ade Safri to reporters, Monday (18/8).
Ade explained that during the first call, several letters were returned by the expedition because the addresses were incomplete. Apart from that, there are also several artists and celebrities who have changed their residence.
Ade said that this coercive effort would be carried out against artists or celebrities who had received the first summons but did not return for the second summons for examination.
"In this regard, we have again sent out a summons to send another summons for an examination schedule on Tuesday," he explained.
Suspect
In this case, investigators from the Cyber ​​Sub-Directorate of Ditreskrimsus Polda Metro Jaya have arrested and named five suspects.
Ade said the five suspects each had the initials I, JAAS, AIS, AT and ET. I alias Irwansyah is the director as well as the admin and owner of the website.
Then JAAS acted as cameraman. AIS acts as editor. AT plays the role of sound engineering. Meanwhile, ET plays the role of a secretary and female actor in an adult film.
"These five suspects are in one production house. So it is one production house where the film results are then transmitted to three websites. The crime scene is in three areas in South Newsdelivers.com," said Ade at Polda Metro Jaya, Newsdelivers.com, Monday (11/9) .
The disclosure of this case began with the cyber patrol team's findings on three sites; https://klassstarg.com/, https://togefilm.com/, and https://bossinema.com/). These three sites transmit paid pornographic films with a duration of 1 to 1.5 hours.
The actors have produced a total of 120 film titles. One of them is entitled Kramat Tunggak, played by Siskaeee and Virly Virginia. Meanwhile, another film is entitled Young Birahi, starring Meli 3gp.
"Of the 120 film titles transmitted on the three websites in question, one of them is the film Kramat Tunggak which was blocked by Kominfo at the end of April 2023," explained Ade.
The 16 female and male actors in this adult film are paid around IDR 10 to IDR 15 million per film title. Meanwhile, subscription rates for this pornographic film site range from IDR 50 thousand per day, IDR 150 thousand per week, IDR 250 per month and IDR 500 thousand per year.
"The amount of profit obtained by the suspect in approximately one year of operation starting in early 2022 is around IDR 500 million," concluded Ade.