Newsdelivers.com, Insertlive –
Actress Natalie Zenn revealed that she had performed a consecration or ritual to purify herself from sin.
He then revealed the reason he was only baptized at the age of 23, even though generally people are baptized when they are teenagers.
Natalie Zenn has actually wanted to be baptized since she was 17 years old. But his parents advised him that baptism should ideally be carried out after he understands his faith in God.
ADVERTISEMENT
SCROLL TO RESUME CONTENT
"Long story short, I actually wanted to be baptized when I was 17 years old, but my parents said later when I really understand, I'm sure to make a decision and believe in God," he said as quoted from Instagram, Tuesday (19/9).
Because she had found confidence and trust in God, the owner of the name Beby Natalie finally decided to be baptized.
He is now ready to dedicate himself to God without any curiosity.
"Here I offer myself to be baptized and repent of all my sins. And yes, there is no turning back," he added.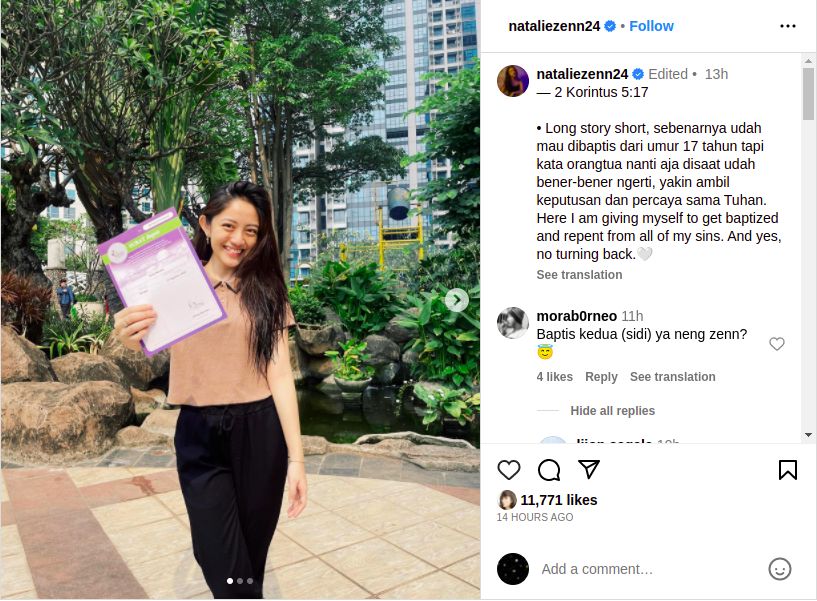 Natalie Zenn/ Photo: doc. Instagram
At the end of her upload, Natalie Zenn added a Bible verse that reflects her personality after being baptized.
"2 Corinthians 5:17," he concluded.
2 Corinthians 5:17 TB reads "Therefore whoever is in Christ is a new creation: the old has passed away, the new has come".
(poor/poor)
Also watch the following video: